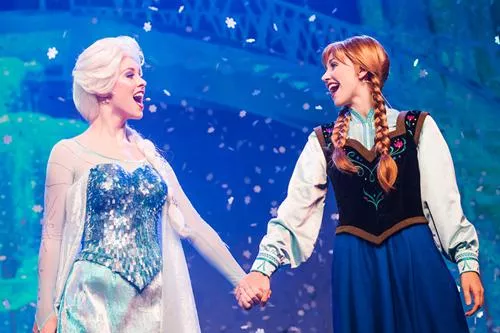 Image via Disney
Like snowflakes on your tongue you just can't keep "Let it go" out of your mouth. The whimsical world of Frozen has flurried its way into our hearts since its icy beginnings- begging us all to ask "do you want to build a snowman"?
The answer of course being yes- who doesn't want a snowball ridden sugar high snowman following them around singing in over joyous monologues? WE DO, and if you're like Olaf we can tell you now you won't have to wait for summer to party in a winter wonderland with Arendelle's sister princesses.
Riding in on the chill in the air Disney is set to roll out the Frozen Holiday Premium Package as guests ring in the holiday season in the happiest place on earth. Starting November 7 on select dates through January 4, 2015 guests may purchase the Premium Package and delight themselves in a fully immersive Frozen fantasy.
The magic begins as guests enjoy reserved viewing in the Premiere Theater for the "For the First Time in Forever: A Frozen Sing-Along Celebration". The blizzard of Frozen magic doesn't stop there though; as guests will also enjoy reserved seating for the Osborne Family Spectacle of Dancing Lights show, a special VIP Frozen themed dessert party, and will even receive a special holiday lithograph and Frozen pin to commemorate their frosty fun.
All this winter whimsy can be purchased for $89 per adult or $59 for children (ages 3 to 9), tax and gratuity included. A separate ticket for admission to Disney's Hollywood Studios is required and is not included in the package price $94 ($88 ages 3-9).
So if the cold never bothered you anyway be sure to not miss out on this icy inspired trip, sure to melt your heart and leave you singing everyone's favorite song.