Perhaps you know local force of blond-tipped nature Randy Ross from his failed bid for Orlando City Commission back in 2012, or from some of his philanthropic work for women's issues – specifically on the domestic violence front – via Walk a Mile in Her Shoes, or maybe you know him as a current staffer for the Orlando Museum of Art, at which we were pictured with him during last weekend's Black & White Gala for the Center (he's on the left; his partner, Brian Fenn, running for Soil and Water, is on the right):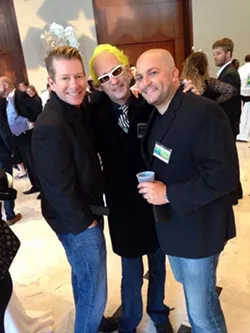 See, perfectly cordial. But Ross has also been a bit of a lightning rod lately for siding with Orange County Mayor Teresa Jacobs and all things Republican – he's a Democrat with a Rick Scott sign in his yard, if that's any help for you – and has seemingly risen out of nowhere with this "building bridges" mentality of bipartisanship (or non-partisanship, because surely he's fighting with Jacobs on Question C on this November's ballot which would, gasp, make candidates reveal their associations while increasing voter turnout). He also runs a Facebook page called Orange County Political Voice at which you can read all of the unseemly venom from the Tea Party brigade, should you ever be invited.
At any rate, we've known Ross for a while. You might not know him at all. So who cares? Well, especially if you're a woman, you might.
Ross made a recent appearance on the Tez Figaro blog radio show to talk politics, apparently – as he has done on that show before – but on this particular appearance, Ross came off extremely combative as a debate about the Orange County Clerk of Courts race escalated. Ross, you see, is supporting Eddie Fernandez who was appointed to the post not so long ago by Gov. Rick Scott following the death of former clerk Lydia Gardner. Fernandez, who recently made a stink – with Jacobs in tow – that he is supporting gay rights by expanding the domestic partnership registry locations to include ALL of the clerk offices (even though you can just mail your application in), is set to be present with Jacobs at this weekend's Come Out With Pride, because all the gay Republicans are just clamoring for it. It's a shitshow. But Ross just made it worse. Listen below to his appearance on Tez Figaro's show, and allow your jaw to hit the floor at his observations about Fernandez "blowing off the doors of the courthouse" with his acumen while Moore Russell, a commissioner, was busy "just making babies." Also, listen hilariously when he doesn't get a Jay-Z reference. (If you only have a minute, fast forward – scrub, really – to the 15 minute mark.)
[youtube HqDYpnqg1qQ]
SERIOUSLY, PEOPLE. We've alluded to the gay schism in this town before, but this is a tragic disconnect on so many levels (some that might be too personal to air here). At any rate, there is suitable outrage coming from all the Democrats, mostly because (we can even say without feeling bad) there are racist and sexist overtones – maybe even more than that – to this bit of bad judgment.
"It is absolutely outrageous that an Eddie Fernandez surrogate would go on the air and attempt to diminish the work of Commissioner Tiffany Moore Russell in this way," Orange County Democratic Executive Committee Chairman Carlos Smith says in a statement. "These comments perpetuate a stereotype of African-American women that is not only racist but demeaning towards any woman trying to raise a family and have a career at the same time. This type of campaigning should not be tolerated in our public discourse and must be unequivocally condemned by the candidate. Mr. Fernandez should also ask Mr. Ross to issue Commissioner Moore Russell the complete apology she is owed."
Ross did put up an apology on his OCPV page, but then promptly took it down. Thank God for copy-and-paste, right?
"I'd like to further clarify a discussion that occurred a few nights ago on a radio blog many are familiar with here," Ross wrote. "On the show, during a heated debate, I made a comment that really wasn't relevant to the Clerk of Courts race and for that I am apologizing to Commissioner Tiffany Moore Russell. There are many candidates I support and don't support
but, in all honesty
I speak for none of them. I will pin this post for a bit and ask that no comments be added as I'm not looking to debate this statement."
It should be noted that Ross is awfully quick to comment on everyone else's stories/posts/comments, so geese and ganders.
Here's Commissioner Moore Russell's statement:
"I was appalled and totally disgusted by the recent comments made by Randy Ross concerning my candidacy for Orange County Clerk of the Courts.  To have my eight years on the County Commission belittled to only 'making babies' is a slap in the face to all the women who have fought for women to serve in public office.  It has and will continue to be a challenge for women to run for public office or hold leadership positions in Government and Corporate America.  Comments like these makes it harder for women to engage in the process."
State Sen. Geraldine Thompson, D-Orlando, responded with equal anger:
"Randy Ross's statements are a throwback to a time when women were expected to stay home, barefoot and pregnant.  Men expand their families while they are employed and are not criticized for that.  Why is there a different standard for women?  Randy Ross owes Mrs. Moore Russell an apology.  Like many women, Commissioner Moore Russell, is multifaceted and was able to fulfill her responsibilities as an Orange County Commissioner,
mother and wife.  Women deserve an apology from Randy Ross and any official he represents.
"
We reached out to the only published campaign number for Fernandez, but his voicemail box is surprisingly full.
[UPDATE] Later in the evening, Eddie Fernandez got back to us via email with this statement:
"While I appreciate all of my supporters, particularly passionate ones, I do not condone comments Randy Ross made on an internet radio regarding my opponent as a working woman. Randy is not a campaign surrogate, and does not represent my thoughts about my opponent or working mothers.
I was raised by a single mother, after my father's death. I have long admired her and all mothers that balance motherhood and careers, even in the most challenging of circumstances. What is being left out of this story is that upon hearing about the comments, I immediately reached out to the radio show host and Randy to request corrective action be taken because I believe an apology to my opponent from him, at minimum, was the right thing to do. "
However, Ross and Fernandez have utilized Ross' place as a surrogate/supporter on Facebook in the past, so we pressed Fernandez on what "corrective action" was actually taken. Apparently, Ross' sort of Snapchat apology was the extent of said corrective action. Still, here is what Fernandez said:
"He's never been part of the campaign so nothing to remove or demote him from.  He was a mere supporter like any other. He unilaterally chose to be vocal, not at our request. The statements calling him a surrogate in your article are factually inaccurate, and I would appreciate that be corrected."
Unfortunately, the "surrogate" comment was in a quote and also backed up by other sources. Still, kudos to Fernandez for standing up and asking for a disappearing apology.