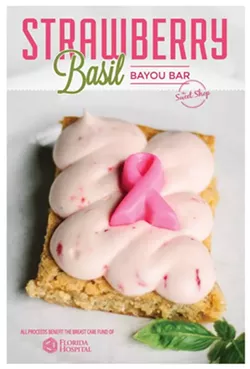 Restaurants around Orlando are showing their support of Breast Cancer Awareness Month with October specials tinged with the color pink. A sampling:
@marandaweisspinup via PaintPFChangsPink
As well, P.F. Chang's has painted the signature warrior horses that flank their doors pink, and will donate $1 for every selfie with the pink horses posted on Facebook, Twitter or Instagram that includes the #PaintPFChangsPink campaign hashtag, as well as $1 for every spicy tuna roll or California roll sold in the month of October, to the National Breast Cancer Foundation.
And if you're just in the market for some staples, the Ancient Olive will donate $1 from the sale of every single-varietal bottle of extra-virgin olive oil sold in October to Winter Park Memorial's Pink Out Mammography fund.
We're having our usual schizophrenic self-wrestling with this whole thing – on the one hand, the pinkification of breast cancer (and of women's products and issues in general) is downright infantilizing; on the other hand, raising funds for a campaign to encourage women to get mammograms is obviously praiseworthy. But, well, we aren't going to solve that dilemma today, so let's just enjoy the marvelously daffy Kay Thompson thinking pink in Funny Face (I love the whole bit but the song starts at about 2:25):