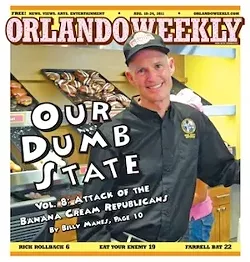 Just a reminder to tune in to
WMFE
at 1 p.m. today to hear Boston-based NPR news show
Here and Now
broadcast from Orlando. (Reporter
Jeremy Hobson
is already looking for restaurant suggestions.) They'll be discussing the, oh what's the phrase I'm looking for here,
insane shitshow
that is the Florida gubernatorial race.
Jeb Lund wrote an excellent Rolling Stone story about it last week, but I feel like our senior staff writer Billy Manes might have a little to contribute if anyone's looking for a more local angle, as well as "Give Me Your Money" columnist Dave Plotkin.
Our coverage in the last month or so:
Or, you know, just search "Rick Scott" or "Charlie Crist" on our site and take your pick of all the fun.
Anyway, don't forget to listen at 1 p.m. at 90.7-FM.