Hey, my name is Rocky. I'm a super-cute dog who was surrendered to the shelter by my owner when he moved out of town and could not take me with him.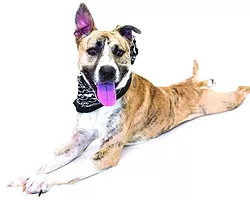 I am a pretty awesome 1-year-old boy. I'm a mixed-breed – I have a cool-looking brindle coat, one ear that sticks up and the happiest smile in the world. I also like to do this frog-dog thing where I lay flat out and stretch my legs behind me. It gets me a lot of attention from people, and I LOVE attention!
I also like to play with toys and I love to hang out with other dogs. And check out my head tilt – it's kind of perfect.
I am located at Orange County Animal Services, 2769 Conroy Road, 407-836-3111, ocnetpets.com. I am super sweet, healthy and heartworm negative. I'm already fixed, and I'll be microchipped and up-to-date on my shots when you take me home.
Please come and get me!