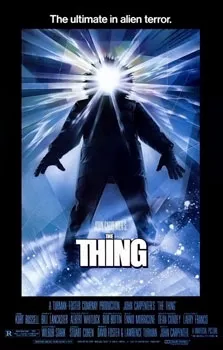 Image via Wikipedia
St. Matthew's Cinematheque Halloween Double Feature | 10 p.m. Wednesday, Oct. 15 | St. Matthew's Tavern at the Orlando Beer Garden, 1300 N. Mills Ave. | 407-300-3489 | facebook.com/St-Matthews-Cinematheque
You can't celebrate the Halloween season without at least one night of scary movies. So why not spend a few exciting nights getting well acquainted with a spookathon with host St. Matthew's Cinematheque? How about two weeks' worth?
St. Matthew's Cinematheque will be laying out Halloween double features every Wednesday night beginning Wednesday, Oct. 15, through Wednesday, Oct. 29.
Things kick off with two classics, The Night of the Hunter directed by Charles Laughton and Robert Mitchum (even though he was officially uncredited for his work), and The Thing directed by John Carpenter, shown at 10 p.m. and midnight, respectively.
The tavern hasn't yet announced what movies will play Oct. 22 and 29,
So come out of hiding, at least on Wednesdays,  for at least one night and take advantage of this special treat with a trip to St. Matthew's Cinematheque  at St. Matthew's Tavern at the Orlando Beer Garden this season. We promise it they won't bite
or will they?