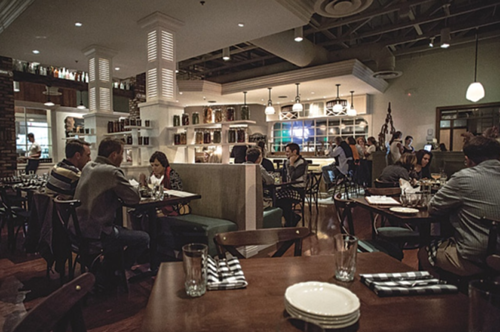 Photo by Rob Bartlett
This year, Esquire magazine held its first-ever Food and Drink Awards, and they chose James and Julie Petrakis' Cask & Larder as one of the best new restaurants in America. Here's what the mag had to say about the brewery/gastropub:
"It's hard to get a handle on this inexplicably great suburban Florida restaurant. Do you start with the ham-and-biscuit plate? Or, no: maybe the Southern ramen, with the duck ham and the soy-bacon broth? What about one of the spicy dishes, like the spot-on tribute to Prince's Hot Chicken Shack in Nashville, the skin a blistering phosphorescent orange? Or the red-eye hanger steak with the crispy potato-and-shishito hash? Or a tall, thick, creamy golden draught of the house cask ale?"
The praise doesn't stop there, though. Esquire has tons to say about our 2013 Best of Orlando Writer's Pick for "Best Adorable Brunch Dish," but you'll have to head on over to their website for the rest of it.
Cask & Larder joins other esteemed restaurants from around the country, most notably the Cecil in Harlem, the opera singer-helmed restaurant that took the magazine's top spot. (They credit it with "creating not just a new kind of cooking but a new kind of culture.")  Other standouts on the list include "steakhouse of the future" Knife in Dallas and the manliest of manly-man restaurants, Gunshow in Atlanta, which just so happens to be the food baby of Season Six Top Chef contestant Kevin Gillespie. But, seriously, it's probably a good idea to keep this list handy when traveling; Esquire does an killer job of recognizing a variety of restaurants from coast to coast.
James and Julie Petrakis accepted their award at a gala dinner in New York City on Tuesday night. "There are so many talented and inspiring chefs raising the culinary bar in America right now, including our chef de cuisine Rhys Gawlak, who deserves a special thanks," said James Petrakis. "It's an unbelievable honor to have Cask & Larder recognized by Esquire as one of the country's best new restaurants." Julie added, "James and I met while living in New York when we were attending the Culinary Institute of America. It's humbling to receive this amazing distinction from Esquire, especially in a city that has played such an instrumental role in shaping our culinary careers."
The full listing of the winners of Esquire's inaugural Food and Drink Awards is available on their website. Additional coverage will be in their November print issue, available Tuesday, Oct. 21.