In 2013, the Florida state Capitol was a festive place. In addition to the usual holiday decor – baubles on trees and lights and whatnot – it hosted three different holiday-speicific displays: a Nativity scene, a Festivus pole made of PBR cans and a Flying Spaghetti Monster. See photos below for proof:
Photo via tampabay.com
Photo via NPR
But the Florida Department of Management Services, which is in charge of holiday displays in the Capitol building, decided it had to draw the line somewhere – so they drew it at the Satanic Temple, which also requested that the Capitol host its display as well. The department rejected the request, saying that the Satanic Temple's display would be "offensive." The display would have looked like this, according to the temple: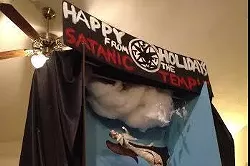 This year, the Satanic Temple is going to try to get its holiday display up again, and this time, they've got the Americans United for Separation of Church and State on their side. On Oct. 15, the organization sent a letter to the state Department of Management Services, telling it that a rejection would violate the temple's First Amendment rights to free speech, as well as its 14th Amendment rights to equal protection.
"Members of the religious majority are sometimes offended by the beliefs of religious minorities, and vice/versa," it wrote. "The department must open its public forum to the Satanic Temple's holiday display, even if the department disagrees with the Satanic Temple's religious beliefs or message."
The letter, which requests a response from the state within 14 days, was signed by the organization's legal director, Ayesha Khan. You can read it in full here.