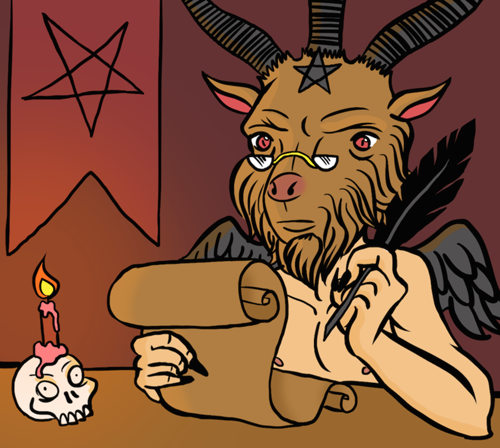 Illustration by Lee DeVito
Illustration by Lee DeVito
Recently, Metro Times, our sister paper in Detroit, unveiled a new column called Letters to Satan. Readers are invited to submit questions about Satanism to be answered by Doug Mesner, a spokesman for the Satanic Temple. Since the Satanic Temple has been so active in Florida in the past couple of years (they rallied for Gov. Rick Scott last year, and more recently, they've been saying that they'll be handing out literature at Orange County Public Schools), we figured we'd run some of the letters, too. Here's the first installment. Let us know what you think in the comments below.
What is a Black Mass?
The Black Mass, as an idea, originated with hysterical Catholic propaganda against the afeared "other." It was a story told about a horrific, ritualistic affront against all decent Christendom, the narrative of which was used as a justification for killing perceived enemies to society -- heretics. Ironically, Roman Pagans accused early Christians of enacting secret nocturnal rituals in which infant sacrifice was said to occur. Christians later demonized Pagans, and made almost identical allegations regarding the "Witches Sabbath". Medieval blood libel against the Jews told of rites during which a consecrated host would be defiled in one way or another. These elements came together in a conspiracy theory of imaginary Satanic crimes that eventually became a staple of Satanic mythology: the blasphemous Black Mass.
As sometimes happens with these things, some people found themselves drawn to the idea of this forbidden ritual, and there's some evidence that certain parties worked to enact outrageous rituals inspired by this mythology. French writer Joris-Karl Huysmans, published a book titled La-Bas in the late 19th-century in which he described an eye-witness account of a Black Mass enactment that has served as a detailed blueprint for its actual practice.
Now, the Black Mass, when it is performed, is a repurposing of the mythology into a declaration of personal independence on the part of its participants. It's an act of liberation from stifling and oppressive superstitious precepts that were likely instilled at a young age. It's usually something people feel motivated to do somewhere in the introductory stages of Satanism, when they are just feeling empowered by the fact that they can engage in blasphemy -- these forbidden symbolic acts -- without consequence.
The ultimate irony occurs when Catholics object to the Black Mass as "hate speech" directed against them. The Black Mass originated from Catholic hate speech, now repurposed to express the affirmative values of Satanists.
Lucien Greaves is the pen name for Satanic Temple spokesperson Doug Mesner.