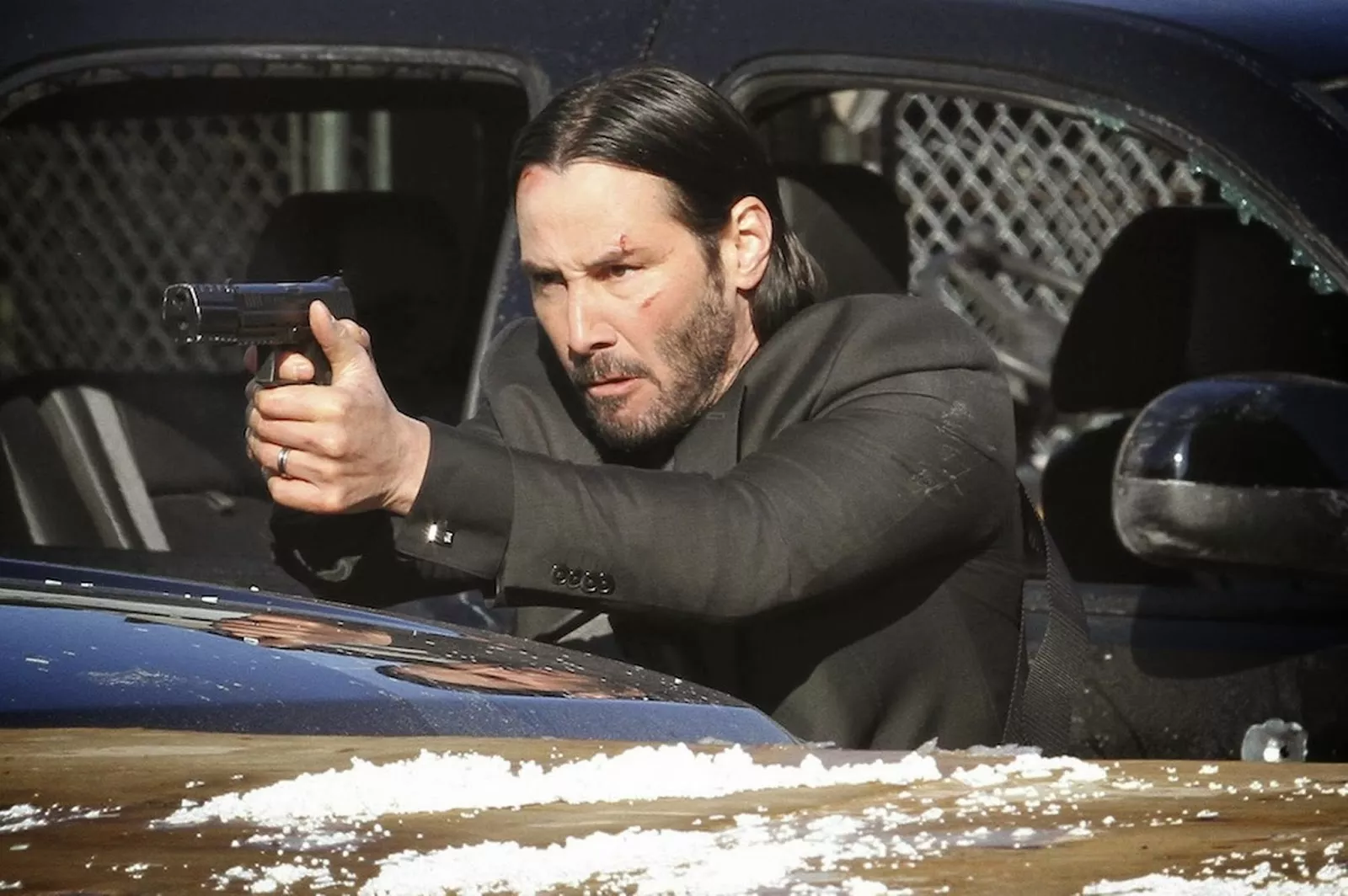 Image via Teaser Trailer
Keanu Reeves' star power may have dimmed since his Matrix period, but maybe that's a good thing. In recent years, Mr. Cool-Breeze-Over-the-Mountains has been putting in work on bizarro films like 47 Ronin and Man of Tai Chi – two panned films that were at least more interesting than a lot of his post-Matrix outings. Now he's in full rejuvenation mode in the wildly entertaining revenge shoot-'em-up John Wick. Undemanding and drenched in irony, the film gives the audience exactly what it wants as it embellishes underworld tropes and the "gun-fu" style of action. Simply put, it's Reeves' best work since those "sad sandwich" memes.
Reeves plays the titular character, a retired hitman coping with the death of his wife, whom he left the life for. A puppy she posthumously delivers to him gives Wick a reason to live and some much-needed unconditional canine companionship. When the pup is murdered by the rotten son (Alfie Allen) of a Russian crime boss (Michael Nyqvist), Wick comes out of retirement for one last spell of violence.
As he draws closer to his prey, Wick navigates through gangland, butting heads with other killers played by Willem Dafoe, Adrianne Palicki and Ian McShane. The underworld depicted in John Wick is a rather cartoony one, where gangsters pay for things in gold coins and stay in a lavish hotel that acts sort of like a safe zone. The world-building here is darkly goofy, but at least it's consistent in its silliness. The killers talk a lot about "the code" and their way of life, which are things we've heard discussed in films a zillion times before. For once I'd like to see a crime flick where they don't waste time going over the rules of the underworld. These needless dialogues in John Wick make the film drag in parts; it feels like filler in between the action set pieces. And holy hell: The action here is absolutely bonkers.
Directed by stuntmen and coordinators David Leitch and Chad Stahelski, John Wick's action is loaded with brilliant stylistic flourishes and graceful, precise gunplay. "Gun-fu" is a mix of martial arts and shootouts popularized by Chinese director John Woo (The Killer, Hard Boiled). Here it's taken to new heights with the directors' uncanny knack for staging action. The big showdowns in the film are impossible not to relish as they assault viewers' eyeballs in a cool, effortless manner. Wick shoots through a whole lotta skulls, and every time it's a thing of beauty. There's thankfully none of the rapid editing or shaky-cam garbage that plagues the action genre nowadays.
The only disappointing set piece is the climax, which feels wholly underwhelming after the grand warfare that precedes it. In a torrential downpour, John Wick abruptly ends with a mediocre fistfight. Through it all, Reeves brings his typical routine of stone face and stilted delivery. Not much more is asked of him, though, so it doesn't bring down the movie at all. Oddly, Reeves fits the role perfectly. The other players here are great as well, especially Nyqvist, who delivers a charmingly gruff performance as the head of Russian crime in NYC.
Tonally, John Wick teeters between action, film noir and seedy cartoon. There are a few comedic beats that hit hard as well, with pulpy dialogue played for laughs. Ultimately, the film doesn't transcend its revenge narrative, but it doesn't really care to. It gives us exactly what we expect from this sort of yarn, but with exceptionally tight action pieces peppered throughout. If you should go into John Wick expecting anything, it's that Reeves looks really amazing shooting people in the face.