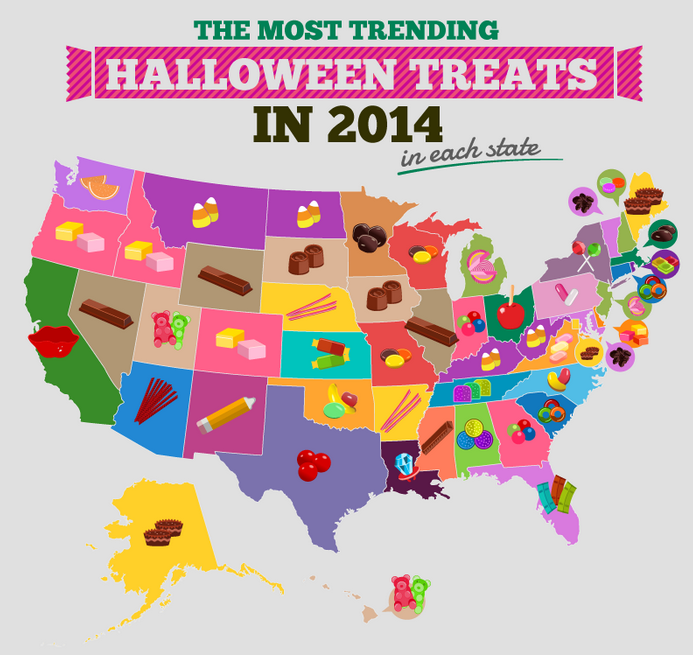 Image via Sumo Coupon
Halloween is tomorrow and you know that the real star of this holiday is, don't you? Candy. Yeah, we're all grown ups here and we can get our drink on with the best of 'em, but, honestly, that gets kinda boring after the first few times (and the hangover after-effects). Halloween treats, though, they'll be with you 'til the end.
Sumo Coupon, a coupon website (obvs), released a map of the most trending Halloween treats in each state. And when I saw Florida's candy of choice? A silent proud tear ran down my cheek. Of all the confections available on the second-most holy candy Holiday (Easter's first and don't you forget it! JELLY BEANS. REESE'S EGGS. COCONUT NESTS. PEEPS. Do I need to go on?), Florida's No. 1 choice to nosh on is the sticky-sweet-sour Airhead. Score one for fruity candy!
Our pride only increases when I look at some of the other state's treats of choice. Um, New Mexico? You can't eat a pencil. And we're super sad for those states who think candy corn is the height of Halloween delights. This waxy, indiscernible-flavored triangle shouldn't even be considered food, amiright?
And then we've got some states that are pretending to be healthy: Ohioans light up when they get apples in their bags and those living in Washington state get practically giddy when presented with orange slices. To be fair, they could mean the old-lady orange slice jelly candy covered in rough sugar. We don't know which one is worse, actually.
To determine the trending Halloween treat in each state, Sumo Coupon used data from Google Trends and Google Search Volumes, choosing the most unique plastic-pumpkin-filler in each state that scored 100. For example, if New Mexico scored 100 on both pencils and Reese's Cups, and another state already claimed the peanut butter goodness, New Mexico got stuck with sucky pencils as their No. 1 Halloween treat.
You can see  the entire map and legend at Sumo Coupon's website.