Orlando's music community was saddened to learn last week of the passing of
John Joshua Alvarez
, a local classical guitarist and composer. Christopher Belt, organizer of the
Accidental Music Festival
and also a classical guitarist, remembers his friend below. Tune in to Charlie Griffin's 
Zero Crossing
today at 3 p.m. on WPRK 91.5-FM (or at s
pinitron.com/WPRK
) to hear an hour-long
tribute to Alvarez's life and music
.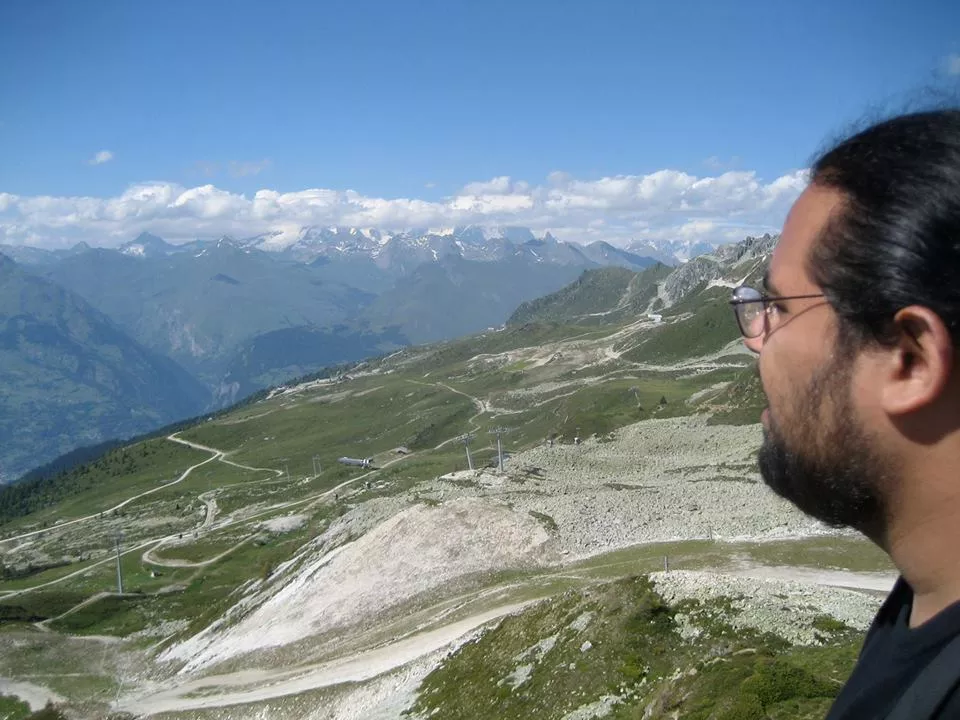 photo of Alvarez by Russ Tweedle
photo of Alvarez by Russ Tweedle
My friend is gone. That's what keeps echoing back at the end of every strain of thought, every time I talk myself through what happened to John, how hard he tried to survive, how much his family and friends tried to help, how little we understood the pain he felt. He told me that every day it was as if someone he loved had died; only now do I understand a little bit of how much he endured, and how small our efforts must have felt, even as we comforted ourselves by saying we had done all we could.
I don't know if there was another way out for John. There were certainly glimpses of outcomes. In 2011 as he was finishing his master's degree in music composition at FSU, he was energized, excited about cooking healthy food for himself and his parents, exercising daily – he lost about 20 pounds, I think – and working extremely hard to perfect his musical masterwork, In the Beginning. He referred to it as a secular creation story told through sound, from the powerful pulsations of the singularity, to the terrifying Big Bang from which all matter was created, to the expansion in which the diversity of all things came into existence: nebulas, stars, planets, life itself and all the agony and joy of it all. It was an ambitious piece, even for John, who characteristically threw everything he had into his music. He often used to say that he tried to play as if every note was his last. Those of us who performed with him, or listened to him play "Little Wing" on his classical guitar, or sat and looked over his shoulder as he played us a new composition on his computer – we knew that he inhabited those sounds, that he cared about what he said and what he wrote, but maybe we didn't fully understand just how literally he understood that maxim of playing like every note was his last.
One of the last pieces he wrote, after a long period of writer's block – interminably long, for him – seemed to perfectly encapsulate how he felt. An anxious, bubbling, dissonant bass riff in the background with a driving drumbeat gave way to an absolutely soaring melody on electric guitar. Rather than a classical, through-composed piece that transforms and resolves itself by the end, this was in more of a rock or jazz form built on repeated cycles. The anxious feeling always came back, the conflict of that hopeful melody against the enveloping darkness of the accompaniment, all of it riding along on the incessant drums.
Now that I listen more closely, there is a section where the drums play a heartbeat lub-dub pattern as the guitar explores wild harmonies and angular melodic fragments. The background is a cacophony of repetitive patterns that create a fog-like density. It seems so easy to make the connections to how he must have felt – the incessant rhythm of the drums was the impulse to keep going, his physical will to live. The angular bass riff was his constant anxiety that framed every experience as a conflict, the electric guitar was his moments of clarity when the fogginess from his ECT treatments cleared away and his own thoughts were able to crystallize. Those thoughts could be beautiful – that melody was what I latched onto when he first showed me the piece – but they could be horrifying in their portrayal of loneliness and despair, which is what comes across with forehead-slapping obviousness as I listen again.
Of course, if you were hanging out in John's room, smoking a joint and listening to the piece on his computer with the monitors cranked to 11, he would probably just say that he loved fat basslines, that there was nothing like a great rock guitar solo, and that he still wanted to write a piece of music that would make someone have an orgasm. He was a brilliant, serious, and often morose dude, but he was also a big kid who could do a million voices, who could make anybody crack up, who loved to hang out with people. Part of me just wants to remember him at his best. I can see him at parties talking to new people, laughing, talking about music or philosophy, science or movies. I can see him dancing, believe it or not, after a fundraising dinner we had for Accidental Music Festival, which we started together. I can see and hear him playing Villa-Lobos' "Study No. 7" at a house I lived in during college, everyone circled around him in rapt attention as he played the most perfect and personal version of the piece we would ever hear. I can see him playing through his music in super slow motion during downtime at a rehearsal, then blistering through it and improvising with total freedom and imagination as we tried to keep up.
He was an incredible musician, as a performer, a composer and a musician. He seemed freed from anxiety and depression when he played electric guitar. His perfectionism kept him from truly enjoying classical guitar playing most of the time. It also kept him from sharing more of his music with the world, from actively promoting it in hopes of making a career. The intense focus he could bring to the details of a piece of music were part of the same frame of mind that made him constantly doubt his own abilities as a player and composer. For the last few years he was paralyzed by his illness – often incapable of taking any action at all. Those of us who tried coaching or cheerleading him know that no amount of speeches would jolt him out of it. Eventually we learned to try to be there when he needed us, to answer the phone, to hear his calls for help. Not being afflicted with severe depression ourselves, we saw the best in his situation and were comforted when he told us that ECT was helping, that he was thinking more positively, that he liked his counselor, that he was trying everything in his power to get better.
The tragedy is that he tried harder than any of us understood to hang on, to see some point in continuing his painful existence when nothing seemed to change in his daily life. We got complacent, we called less often. I keep thinking about how the night John died I drafted a fantasy basketball team for the first time. How could I have known that that day would be my last chance to talk to him, to listen to him? He always reached out before doing something to hurt himself, why would we expect that to ever change? I drove him to the hospital in the middle of the night the first time he had a vision of committing suicide. As bleak as that was, we actually made each other laugh as I pushed him in a wheelchair, running and jumping onto the back and riding it around the hospital. The next time I saw him was at a mental hospital. He said it was awful there and he never wanted to go back, that he wanted to get better so he wouldn't have to go back. Unfortunately, we know he did have several more stays in the hospital. Once he told us that he wanted to go back and become a volunteer, to help other patients that were worse off than him. In the depths of his depression, he thought of others.
When we spoke, he always wanted to hear about what was going on in my life, how my wife Beatriz and I were doing. I couldn't help but think about how our paths had diverged, that we were no longer side by side and that I couldn't be there for him like I once was. He knew that he was the only person who could save him from his depression, but he also knew it was beyond his ability to do it. More than anything I wish I could go back and do a little more, or do a lot more, do something crazy and miraculous and help him out of the depths of his despair. All I can do is hope that he knew how much he was loved, how much his friendship and his music touched our lives, and that at the end he felt some relief from his pain. I miss him so much. My friend is gone. — Christopher Belt