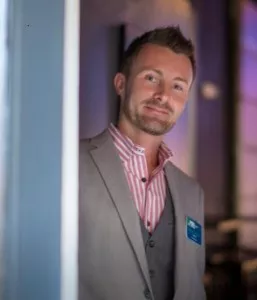 Though it's Election Day and few are likely paying attention, today the city's gay chamber of commerce, the
Metropolitan Business Association,
dropped a rather large bomb. Just weeks after the organization's executive director and president Mikael Audebert
stepped down from the MBA,
stating that he was taking Come Out With Pride with him, the MBA has sent out a press release stating that none of this apparent schism is allowed by bylaws, and therefore none of it is true. Moreover, Audebert has been dismissed from Come Out With Pride and the rest of the board of COWP has been suspended. Oh, dear. Audebert,
while decidedly shifting the tone of Pride over the years,
has been a bit of a political lightning rod, notably for pushing for more (conservative and family) inclusiveness and less activism at the annual event. Which has worked! However, there have been rumblings of conflict in the background for months, and his abandonment of his post just as Pride was underway did seem a little suspect. See what you can read into today's press release, while we make the phone calls to try to figure out what is really going on. EDITED TO ADD!:
Watermark beat us to it with a really good account of the back-and-forth.
You should definitely read it.
Tuesday, November 4, 2014

, Orlando, Florida

The Metropolitan Business Association (MBA), Central Florida's LGBT Chamber of Commerce and parent company to many LGBT subsidiary organizations including Come out with Pride (COWP) and Converge, this morning has exercised its authority to dismiss the Executive Director and suspend the board of its subsidiary organization COWP on the grounds of divergence from its mission statement, failure to meet its charitable obligations, and lack of compliance with MBA oversight and directives.

MBA's action also follows the attempt by its subsidiary COWP board last week to create separation from its MBA parent.  This motion was not presented to or approved by the board of MBA, as required by COWP by-laws when the organization was formed by MBA in 2005.

While the COWP celebration this year boasted its largest ever attendance, COWP's charitable giving is predicted to be at an all time low.  Coupled with what many perceive as a large departure from its original mission to serve the community, members of COWP's parent, MBA, have stepped in to help bring the organization and the event back on track.

Over the last 10 years, the Come Out With Pride organization has grown significantly, bringing together and representing the best of what our community has to offer.   It is a gathering place for us to celebrate our similarities and diversity within our community and with our straight friends and allies.

MBA is extremely grateful for all of the support we have received so far while considering this weighty issue, and will work swiftly and diligently to make right this important pillar of the  Orlando LGBT community.

MBA, Come Out With Pride, and Converge are nothing without the people who support us, and over the years we have been blessed by the significant outpouring from the community that has coincided with significant changes in opinion and practice reflected by our local elected officials who have also supported us.

Moving forward, MBA and the committee tasked to rebuild COWP will continue its important work.