The view from the balcony of the DeVos Family Room.
"It's a great day for Orlando!" speaker after speaker from the podium boomed at the audience of about 500 settled into white folding chairs on the lawn of the Dr. Phillips Center for the Performing Arts, which opened its doors to the public on Thursday, Nov. 6, during a ribbon-cutting ceremony. The ribbon-cutting, it should be noted, was strictly metaphorical – there was no blue ribbon or giant ceremonial scissors. There was, however, a dramatic unveiling as an orange curtain was dropped revealing the center's entrance and confetti cannons blasted star-shaped bits of paper into the air.
"No it's not," I heard a grumpy voice mumble behind me. I turned to see who had blasphemed the center, and awkwardly locked eyes for a moment with a teenager who looked like she'd been dragged to the opening against her will.
Still, for most in attendance, it was a great day – a chance to see the performing arts center that's been seven years in the making and has been the object of much angst and hand-wringing and even controversy as it made its way from underfunded, overpriced, pie-in-the-sky idea to the newest crown jewel of Orlando (our last crown jewel was the Amway Center, which was completed in 2010). The performing arts center, the crowd was reminded multiple times by Dr. Phillips Center for the Performing Arts chairman Jim Pugh and former Orange County Mayor Rich Crotty, is state of the art – only the 37th of its kind.
After multiple speeches (Orlando Mayor Buddy Dyer said he was having the most fun ever; Orange County Mayor Teresa Jacobs said she is the happiest county mayor in the country), the public was ushered inside for tours of the space. Some fun facts we learned on our tour:
The ceiling of the Walt Disney Theater is sky-blue, and our adorable tour guide, Tom, told us that it was based loosely on the idea of the Parthenon and seeing up into the night sky. Special acoustic fabric in the ceiling is supposed to improve sound.
The Alexis and Jim Pugh Theater ceiling, featuring artwork by Tom McGrath.
The restrooms in the front of the house have 78 sinks, 124 stalls and 34 urinals. And there's also a Harriett's Ladies Lounge, named after local theater philanthropist Harriett Lake, with 16 stalls and nine sinks. It's decorated in pink (her favorite color, our "fun facts" sheet tells us), and several of Lake's very stylish hats will be on display in the lounge.

There's a crazy window wall in the DeVos Family Room (named for Orlando Magic owner Rich DeVos) that slides open to reveal a pretty fantastic view of downtown Orlando. While we were touring the space, a high-pitched alarm suddenly sounded, and everyone looked around to find out who touched something they weren't supposed to. Then we realized the giant floor-to-ceiling glass wall was opening, and the alarm was telling us to stay back. While we stood around admiring the beautiful view, I overheard someone who worked on the building mentioning that they can't leave those windows open for too long or the room gets too damp. "Then we have to let it dry out for two days," he told somebody standing with him. "Think about how many birds would fly in here if you left that open," somebody else murmured. Two things I hadn't really thought about before, but I will now think about every time I'm in this room.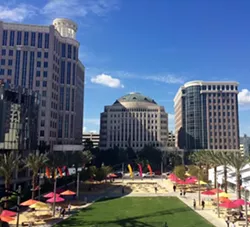 The view from the balcony of the DeVos Family Room.
The concession stands at the performing arts center will feature cheeses from local dairy farms, local breweries and cocktails themed to the shows being staged. We can't wait to hear what they'll be serving for Book of Mormon – decaf Irish coffee? Mormosas?

There will be five stationary bars in the venue, as well as six mobile bars. Harry's Bar, named for Simona and Harry Hagle, will have a Kir menu, featuring a Kir Royale. And for that alone, we cannot wait.

The "wave wall" in the lobby is made of Venetian plaster, and Tom told us that it was all hand-rubbed and will be lit in different colors at night. He also says it'll be visible from I-4 and the 408 – fancy.

Probably the coolest thing we saw today was the ceiling of the Alexis and Jim Pugh Theater, which is made up of 34 pieces of art created by artist Tom McGrath.
The Alexis and Jim Pugh Theater ceiling, featuring artwork by Tom McGrath.
You can get a taste of the Dr. Phillips Performing Arts Center for yourself at one if its upcoming grand-opening events.
For more photos from today's opening, check out this gallery by Grace Howard. In next week's issue, check out our Arts & Culture section, where Seth Kubersky will talk about the performing arts center in his Live Active Cultures column and Yulia Tikhonova will discuss McGrath's work in more detail.