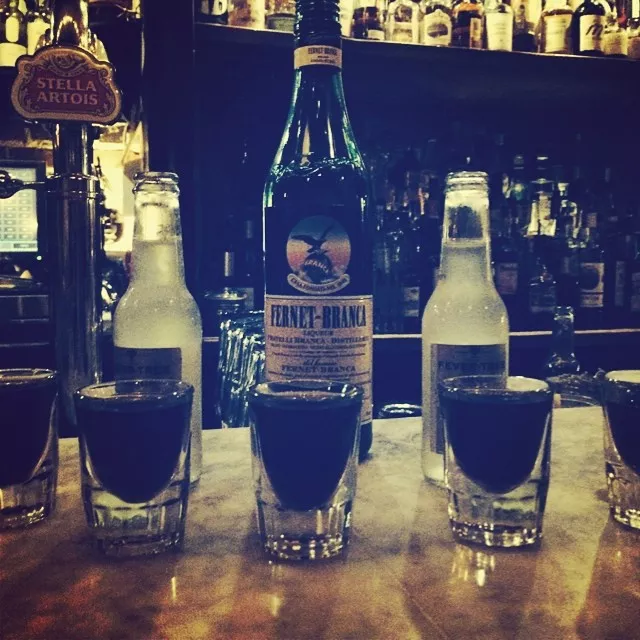 Image via The Courtesy Bar
Image via The Courtesy Bar
This week, Thrillist (yeah, we're all up in Thrillist this week. But seriously, Orlando has some damn good pizza.) released a list of the best bars in Florida that AREN'T in Miami. Two of our absolute favorite Orlando watering holes made the list: the Courtesy Bar and Wally's Mills Avenue Liquors. They waxed drunk-poetically about both:
Courtesy Bar:
"Opened two years ago in a turn of the century building in the heart of Downtown Orlando, CB's got an early 1900s vibe, thanks to a space that's part apothecary, part steam punk, a long list of absinthes, cocktails on tap, and creative Prohibition-style cocktails that often incorporate shrubs (aka drinking vinegars). Our advice: go with the Fernet and house-made cola, or ask for a bespoke cocktail with one of those shrub-based numbers."
Wally's Mills Avenue Liquors
Around since 1954, this old dame has no shame in showing her true colors, which includes yellowed wallpaper from days gone by. It has all the makings of a dive bar. Low-lying building. Check. Windowless. Check. No-nonsense bartenders. Check. It's the perfect location for all of your clandestine activities. You're ordering straight-up shots of Jameson with PBR beer here. No fancy cocktails in sight.
We're glad that Thrillist recognized these two spots, but, as Orlando drinkers, we know that the City Beautiful should have grabbed at least two more spots on this list. Here are some suggestions for their next visit:
You can see Thrillist's entire list on their site.
What's your favorite bar in Orlando? Let us know in the comments.