It's Friday, it's getting close to 5 p.m. and you're just itching to break those office chains and head on out to happy hour, amirite? Here are some links that should help kill those last few moments of your workday: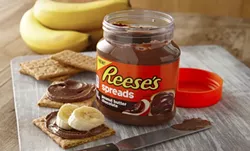 1. Pop quiz, hotshot: what's the best part about Reese's Peanut Butter Cups? The peanut butter, right? Especially at Easter Reese's Eggs season. Mmm, mmm. And the second-best part is without a doubt the chocolate. Well, Reese's has combined the two into a delicious spread, soon to be available (if not already) at your local grocery store. Just imagine all of its uses: spread it on bananas, shortbread, apple slices, potato chips or just about anything. Commence drooling now.
2. Illustrator Austin Light came up with a pretty brilliant (and hilarious) idea. Remove a letter from a movie title, illustrate, repeat for tons of other movies. Above is the masterpiece Finding Emo. Take a look at the rest of his work on Imgur. Which one's your fave?
24 mouthwatering photos from the Beer and Bacon Festival
24 mouthwatering photos from the Beer and Bacon Festival
3. The Beer and Bacon Festival hits Altamonte Springs tomorrow! Our mouths are already watering. This gallery from last year's event should sate you until you can get your mouth on some bacon treats of your own.
4. If you suffer, like many of us do, from the unsettling, almost vertigo-like feeling that hits you when you realize you like a Taylor Swift song, this new product advertised on Saturday Night Live, Swiftamine,  may be just what you need. Too bad it doesn't really exist.
Image via Royev Ruchei Zoo Krasnoyarsk
Image via Royev Ruchei Zoo Krasnoyarsk
5. And for your Friday dose of adorable, we present you with this sweet baby penguin, who was born this week at the Royev Ruchei Zoo Krasnoyarsk in Russia. There are more pics of the cutie at Siberian Times, but below's another one of our faves. Just look at those tiny feet!
Image via Royev Ruchei Zoo Krasnoyarsk