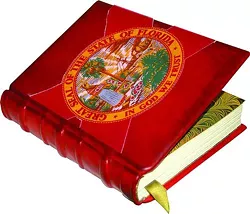 The window at Writer's Block is already full of cookbooks by Winter Park chefs. (image via
Why should Record Store Day have all the fun? We hope to see Florida Bookstore Day build up the same groundswell of support that RSD has in its seven years – but this is just the first one, so they'll need alllll the readers to show up today. More than 30 stores across Florida have signed on, thanks to the organizing efforts of Tiffany Razzano, founder of Tampa Bay literary nonprofit Wordier Than Thou, and four are right in your backyard.
In Audubon Park, Bookmark It has a full day of workshops and readings (including David James Poissant, Lynn Waddell and Jessica Martinez) planned, and Winter Park's practically brand-new Writer's Block Bookstore offers a whole day of local chef-centric activities – cookbooks by Floridian chefs accompanied by snacks cooked up by various Park Avenue restaurants. Also stepping up is Winter Park's antiquarian shop, Brandywine Books, and Park Ave CDs, which will knock 10 percent off the price of all books today – 15 percent with a receipt from another indie bookstore dated Nov. 15, 2014.
Saturday, Nov. 15 | various locations | wordierthanthou.com | free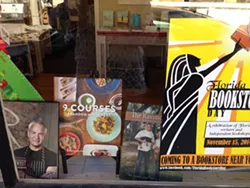 The window at Writer's Block is already full of cookbooks by Winter Park chefs. (image via Facebook)