It's Friday, it's dreary out and you're stuck in the office. These links should help you pass some of the time until you can escape the drudgery:
1. The Vulgar Chef is the creator of delicacies such as Doritos Crusted Corn Dog Grilled Cheese and Cookie Dough Cereal Bowls. Some of his creations sound heart-stoppingly bad for you (but delicious at the same time), however he may be onto something with his latest creation, Thanksgiving Sushi: stuffing, turkey and cranberry sauce wrapped up in turkey skin. Maybe not a new Thanksgiving tradition, but, without a doubt, an option for repurposing those leftovers.
2. Heisenberg/Walter White/Malcom's dad/Bryan Cranston has narrated a, um, children's book titled You Have to Fucking Eat. The book is written by Adam Mansbach, the brains behind the Samuel L. Jackson-narrated tome Go the Fuck to Sleep. You can listen to a snippet from the Cranston-narrated book in the video above or download the whole thing for free at Audible.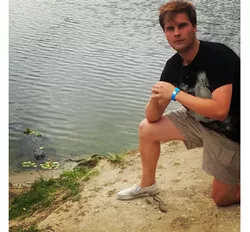 25 problems Floridians deal with daily, as found on Instagram #floridaproblems
25 problems Floridians deal with daily, as found on Instagram #floridaproblems
3. Oh, Florida. We've got problems that we deal with everyday that people in other states can't even fathom. Take alligator photobombs, for example. You won't find that in Illinois. This gallery highlights 25 of the problems those living in the Sunshine State are confronted with on a regular basis.
4. Kickended is where unfunded Kickstarter projects go to die. Silvio Lorusso, an Italian artist, uses information from KickSpy to compile all of the Kickstarter projects that received exactly $0 in funding. We could spend hours clicking through all the projects that could have been, including ONE THOUSAND MILLION VOLTS: art created with lightning.
5. Happiest. Owl. Ever.