You feel that? That's the holiday season in the air. Or a
cold snap
that's just about over. If you work in non-retail-land, it's likely that this is your last Friday of work before Thanksgiving. It's dragging by isn't it?! These links should help those seconds tick just a little bit faster: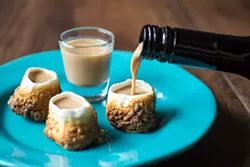 Image via the Watering Mouth
1. Something about a toasted marshmallow just seems festive, doesn't it? Especially when it's turned into a shot glass filled with your favorite liquer. Food blogger Cheri Alberts created a video showcasing just how easy these toasted marshmallow shot glasses are to make. Watch her video below:
Image via Hipster Business Name Generator
Image via Hipster Business Name Generator
2. So, you have a brilliant idea for a business, but you're drawing a blank on the name and logo? Head on over to the Hipster Business Name Generator and they'll hook you up with a brand by doing nothing more than clicking your mouse. You can't have Porter & Skull, though. That's ours.
24 photos of epic Thanksgiving Day fails
24 photos of epic Thanksgiving Day fails
3. Thanksgiving will be here before we know it and, if you're cooking at home, there's always a chance for failure. In our annual Holiday Guide, we give you some tips on how to avoid disaster, and this gallery of epic Thanksgiving fails is filled with people that should have listened to us. If you experience one of your own, don't fret too much. You can always go out.
4. If you ever wanted to know exactly what kind of information Google has stored about you, this link will help. It outlines various ways Google is keeping track of you, from the info they use to serve you ads to your entire YouTube search history. Bonus: the site also throws in some tips on how to end all the tracking, as well as some useful tools Google offers, like legal online copyright violation assistance.
5. This panda at the Toronto zoo sure loves playing in the snow.