This Little Underground
is Orlando Weekly's music column providing perspective, live reviews and news on the city's music scene. Read the latest column here.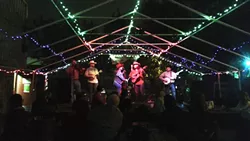 Gators in the Sawgrass at Orlando Brewing
Gators in the Sawgrass at Orlando Brewing
Orlando Brewing is one of those places I wish I had occasion to go to more. Although not the hottest stage in town, I like the setting of the local organic brewery so I keep an eye on their music calendar for opportunities. A healthy live-music scene needs relaxed, unpretentious stages, too.
It had been a while since I checked in there for a show and I saw St. Pete's Gators in the Sawgrass (Nov. 21, Orlando Brewing) on the schedule. They're a band I'd only glimpsed once before at Will's Pub, but it was a peek worth a longer, closer look.
Gators in the Sawgrass at Orlando Brewing
Gators in the Sawgrass at Orlando Brewing
Coming out of a cool snap, it was a pretty ideal night for the brewery's al fresco stage. I settled in near the fire pit, a simple addition that's probably the best thing they did since install taps and build the outdoor stage. Within minutes, a bartender brought out fixings to make s'mores, a hospitable gesture of both literal and figurative warmth.
Although good-natured, Kentucky openers the Full Body Tones played the kind of generically catchy rock you'd expect from an act that willingly classifies themselves as an "alternative rock" band in the year 2014.
Gators in the Sawgrass, however, packed plenty of context and character with a country and bluegrass sound that's got one foot in the hills and the other in the swamp. Although occasionally loose, they're a traditionalist string band that keeps it true and doesn't get too cute with the form. Most importantly, they're a good time. A hoedown in an off-downtown warehouse district is something I can get down with.
Gators in the Sawgrass at Orlando Brewing
Gators in the Sawgrass at Orlando Brewing
Read more This Little Underground:
Live music at the Smiling Bison
Live music at the Smiling Bison
Follow Bao on Twitter (@baolehuu)
Email Bao: baolehuu@orlandoweekly.com