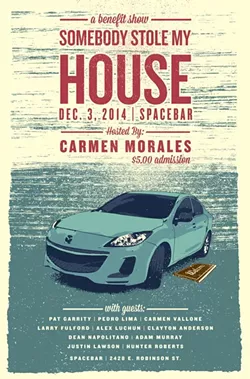 So maybe you missed the fact that yesterday was
Giving Tuesday
and still want to direct a little of that holiday generosity to someone in need. Tonight at
Spacebar
, you can get that chance. Carmen Morales, a comedian with local roots who has been touring out of Chicago for a good chunk of this year, recently had her car stolen in Apopka. As much of a headache as losing your car usually is, Carmen's situation is a triple migraine due to the fact that, as a road comic, her car was essentially her home, having nearly everything she owned inside of it.
To help her replace everything, a group of comedians have organized a benefit show for her tonight at 9 p.m. at Spacebar. Participating comics include Larry Fulford, Alex Luchun, Clayton Anderson, Dean Napolitano, Pedro Lima and others, and Carmen herself will be hosting. The cover is only $5 and goes directly to a good cause. Even if you can't make it out to the show, you can still contribute by sending a
Paypal
donation to carmencomedian@gmail.com.
Spacebar is located at 2428 E. Robinson St.