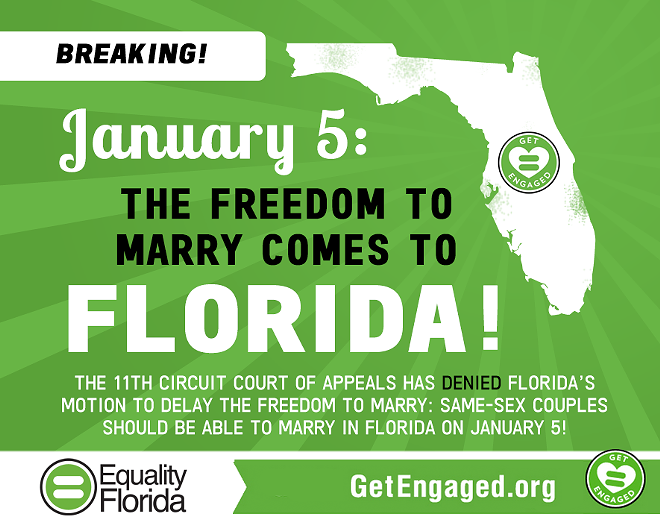 Woah — we didn't see this coming today, but here it is: The 11th Circuit Court of Appeals has denied the state's request to extend a stay that would keep the state's ban on gay marriage intact.
Here's the quick and dirty version of what went down:
In August, federal court judge Robert Hinkle ruled that Florida's ban on gay marriage was unconstitutional because it violated citizens' guarantee of equal protection; however, Hinkle stayed his ruling so its effect would be delayed until Jan. 5, 2015. Despite requests from proponents of gay marriage to withdraw the stay, Hinkle ruled that it would remain in place in November, so the Circuit Court of Appeals would have time to review the case. Meanwhile, the state of Florida, led by state Attorney General Pam Bondi, filed a motion to the court to obtain an extension of Hinkle's stay so the ban would stay in effect beyond Jan. 5.
Today, the 11th Circuit Court told the state that wasn't going to happen. So, at the end of the day on Jan. 5, same-sex couples in Florida can get married. Yes, for real. Unless – and this is a big unless – Bondi and friends make another desperate legal maneuver that puts things on hold. Call us cynics, but we fully expect that she'll try.
But for now be happy, because Florida seems to be getting closer and closer to equality for same-sex couples every day. You can read the 11th Circuit Court Decision by clicking the link below and viewing it in PDF form.
See related PDF