Yes, we know we post about shelter animals a lot, but we can't help it. Orange County Animal Services takes in an average of 53 animals per day –
per day
– and many of those animals end up being put to sleep because they never get adopted and the shelter is often out of room for the new dogs and cats that need a place to stay. Right now, the shelter has more than 300 animals in its care.
With that in mind, there are two animals at the shelter right now who've managed to stick around for an extraordinarily long time who desperately need a home before their time runs out. To help increase their chances of finding homes, the shelter is even waiving their adoption fees — that's right, these two animals will be sent home for FREE, and they'll be spayed/neutered, microchipped and up-to-date on shots before they go home.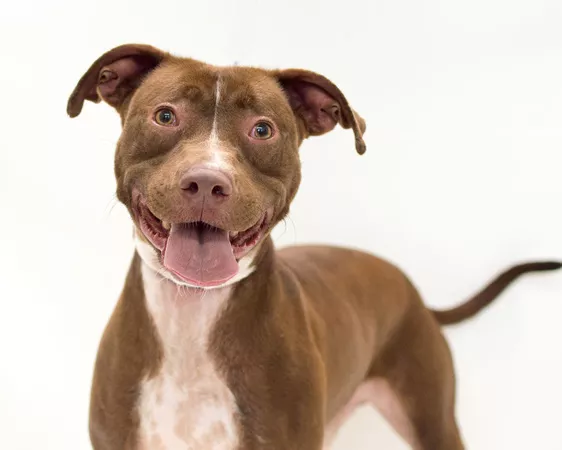 Taz (A284567) is our Gimme Shelter pet of the week. He's just a year and four months old, and he's a petite 37 pounds. The shelter days he's been in great health since his arrival on Oct. 14, when he was picked up as a stray. He's outgoing and friendly, which has made him a staff and volunteer favorite. They say of him: "Taz is a high energy dog and would do well in an active household. The shelter is hoping Taz will catch the eye of an experienced dog owner who can educate this boy on basic training and exercise caution when introducing him to new surroundings and other pets."
Cat lovers can consider Autumn (A286989), 1-year, 9-month-old female tortie who was returned to the shelter on Oct. 22 after recovering from an upper respiratory infection. She is a little shy in the shelter, but she warms up quickly and is very adaptable. Another incentive for you cat folks – if you can find a way to make Autumn the next Internet-famous cat,
you could become rich.
This month all dog and cat adoption fees at Orange County Animal Services are reduced to $12. This includes the spay/neuter, initial vaccinations, microchip identification, deworming, heartworm test (dogs) or FLV/FIV test (cats), rabies vaccination and Adoption Welcome Kit.

On Saturday, December 20 the shelter will be hosting an adopt-a-thon and expanding the day's hours to 10 a.m. to 6 p.m. The shelter will be gifting adopters with a small present when taking home their new family member. Food truck cuisine will be available at this event.

Orange County Animal Services is located at 2769 Conroy Road in Orlando near the Mall at Millenia. The facility is open for adoptions weekdays from 10 a.m. to 6 p.m. and weekends from 1 p.m.to 5 p.m. For more information, please call (407) 836-3111 or visit www.ocnetpets.com.