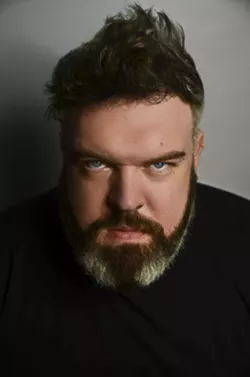 For a guy with only one line, Kristian Nairn, Hodor on HBO's hit fantasy series
Game of Thrones
, is anything but one-note. Though the world may now him as the gentle giant who only knows one word, his name, Nairn has been a successful house DJ for years. This Saturday, he brings both of those careers together at
Venue 578
for his Rave of Thrones tour. In a recent e-mail interview with
Orlando Weekly
, Nairn talks about Westeros, his love of DJing and how he feels about the changes he's seen over the last 30 years in his native country of Northern Ireland.
OW: You've said previously that you won't be doing any filming for the upcoming season. Is that still the case? I assume you can't tell us much about upcoming plot points, but if there is anything you can share...
KN: Unfortunately, I can't share anything I know about season 5. All I WILL say is that I am super excited about it. It's actually going to be nice to have a year to enjoy it pretty much the same way the public see it!
OW: When filming, do you ever forget your lines or have to do an exorbitant amount of takes to get the right inflection?
KN: In some cases, yes. It's very much dependent on the type of scene, and sometimes it's extremely important to hit exactly the right note. I can't remember any instances of filming in the night just to get my "Hodor" right though, haha.
OW: How long have you been DJing? How did you get started and what was the scene like when you did? Most of your mixes on Soundcloud that I've heard seem to have a fairly classicist bent, avoiding trendy EDM-style wubs. What do you think of the resurgence in popularity that dance music is seeing among youth culture in the States?
KN: I'm not a massive fan of labelling music so much, although I agree that some is necessary. I started DJing around 16 years ago roughly. The scene was very different then. It wasn't so important, in the mainstream clubs at least, to play music that people already knew. Going to a club back then was a joy for me, because I would be hearing all kinds of new and exciting music, and I really think that's a big part of a DJ's job, to introduce people to new sounds and flavors. I'm glad that the banner of EDM has brought house music into some people's lives. But you are totally right, I do come from a classicist angle ... and I'm very happy to hear that!
OW: Orlando was once considered the capital of the '90s rave scene in the US. Have you ever DJed here before, and are you familiar with its scene (current or old)?
KN: I have not! But I am super excited to do so. Strangely my knowledge of Florida music is more of death metal. I was a massive metal fan growing up – still am in fact – and I always remember hearing that the Florida scene produced a lot of great bands. I look forward to learning about the rave roots though!
OW: How's the current tour going? Are you finding that the audiences are more Game of Thrones fans, house music fans, or all of the above? Are you mixing in GoT-related music into your set? I saw that you had mandatory costumes and a lot of GoT stage-dressing during the Australian leg. Will that be coming to Orlando as well?
KN: The tour is going better than I ever dreamed possible! I've been completely blown away by the turnout and the enthusiasm of the people who come. It is a real mix of house and
GoT
fans too, and that's exactly how I wanted it to be! A very strange mix of people, and that, to me, is what clubbing is all about. Australians are great, and they seem to love a good dress-up party! It was a super way to start the tour and it's always going to have a special place in my heart as a result. I don't play
GoT-
themed stuff as a rule, although, talking of that, I do have something new to add in for this leg of the tour.
OW: I read that you grew up close to Belfast in the '70s and '80s. Northern Ireland must have changed so much over the time that you've lived there, and you've seen it firsthand. From the Troubles of the '60s-'80s, to the rise of dance culture in the '80s and '90s, to it being a prime spot for film production now with high-profile shows like Game of Thrones or The Tudors. Can you tell me what that progression's been like from your point of view?
KN: That's a great question. I love my home country, and I love my fellow Northern Irish. It's a very special little country, which has been through a lot. As a result, the people are very unique. haha. I think we have a very self-deprecating sense of humor – which we like to apply to others sometimes – that sometimes shocks the uninitiated, but there is a warmth and twinkle of the eye behind it. I believe this comes from the way both sides of the country suffered for so many years. The city is flourishing now. We have amazing restaurants, shopping and a growing tourism industry. I'm very proud of it indeed!
Kristian Nairn brings his Rave of Thrones tour to Venue 578 (formerly Firestone) at 10 p.m. Saturday, Dec. 13. Tickets are $15. Costumes are highly encouraged.