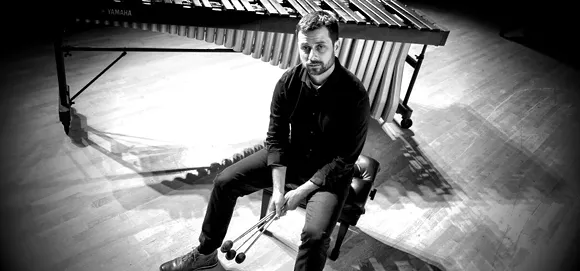 If you needed any more proof of Orlando's
fast-growing audience for modern music
, here it is: An Orlando ensemble will participate in the
Worldwide Day of In C
being streamed live Sunday, Dec. 21, 2014. Musicians all over the world will take turns performing the classic Terry Riley composition, and UCF professor and badass percussionist Thad Anderson (above) just contacted us to let us know he'd put together an Orlando group.
"In C," probably Terry Riley's most famous composition, is maddeningly simple and simply enthralling to experience. Consisting of 53 individual repeated "cells," Riley imposes no time signature and no specific instrumentation, making every performance unique. It can almost be seen as a game for musicians (fancy music term for that: "aleatory"); check out several versions of it, including one by a group of drummers from Bamako, Mali, with Damon Albarn, Brian Eno and Nick Zinner, in the playlist at right. The interlocking repetitive patterns of "In C" make it, by some lights, the first minimalist composition.
The Orlando contingent performs at the
Gallery at Avalon Island
at 9 p.m. Sunday. "Looks like we'll have 18 players," says Anderson. "To my knowledge, around seven of us have played the piece before." (Some of them
here
, in June of 2012.) As of today the roster, which includes several of the virtuosi who played with John "Kid Millions" Colpitts in the
Man Forever show
just five days ago, is: Thad Anderson, Chris Belt, Kaylee Bonatakis, Omar Carmenates, Karlos Colon, Adriane Hill, Ciara Hill, Tony Hill, Nick Hofmann, Dan Johnson, Katie McCoy, Brandon Miller, Beatriz Ramirez-Belt, Matt Roberts, Cody Roseboom, Luz Elena Santa-Coloma, Marissa Turney and Michael Wilkinson.
The organizers of Worldwide Day of In C have this to say about the project: "Inspired by the communal spirit of Riley's work and the composition's 50th anniversary this year, 'A Worldwide Day of In C' unites musicians from all over the globe in a day-long celebration of music and community with live-streamed performances occurring throughout the day with a variety of ensembles in over 30 cities around the world." If you want to have a go at it yourself, the score is below, and directions are at the Worldwide In C website.