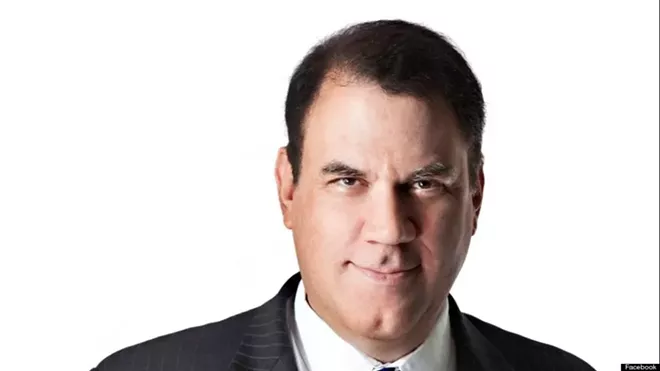 UPDATE: THIS AFTERNOON, STATE ATTORNEY JEFF ASHTON RELEASED THE FOLLOWING STATEMENT:


"State Attorney Jeffrey L. Ashton informed the Clerks of Courts in Orange and Osceola counties today that his office will not prosecute them for issuing marriage licenses to same-sex couples when the ban is lifted on January 6th."

VICTORY!!!!
Maybe it's the holiday crunch and the associated number of days people will be drinking outside of the office – or perhaps because it's a huge and necessary battle about why equality matters in this state and nationwide – but the developments in Florida's gay marriage conundrum are happening almost every hour on the hour. Yesterday,
we reported that Miami-Dade Clerk of Courts Harvey Ruvin was seeking some clarity
from the courts on whether he was actually going to be able to issue marriage licenses on Jan. 6, seeing as, well, the marriage ban is unconstitutional in every way possible, and the
U.S. Supreme Court has denied U.S. Attorney General Pam Bondi
a stay on the issuance of licenses next month. Many of the state's 67 county clerks, though, fear legal retribution, thanks to a discredited report from advisers to the state clerks association. Last night, the same advisers stood their ground, stating that
clerks should still avoid being kind to the gays,
because, oh no, slaps on wrists or whatever.
This morning (or maybe last night?), U.S. Congressman Alan Grayson, our congressman who actually loves the gays, joined with Osceola County Commissioner Cheryl Grieb in turning up the heat on Orange-Osceola State Attorney Jeff Ashton on the issue of pressing charges against clerks issuing licenses to same sex couples. Ashton, you see, is characteristically playing the issue safe and down the middle. Yesterday he issued a statement via spokeswoman saying: "The State Attorney does not announce in advance which cases he will prosecute. If he receives a complaint, that complaint will be investigated and evaluated, as other complaints are, and a charging decision will be made at the appropriate time."
Humbug.
Grayson and Grieb contend that this is all a violation of the Federal Equal Protection Clause of the U.S. Constitution, because that's exactly what the U.S. Supreme Court said last year. Grayson,
who wrote both myself (Billy Manes) and my deceased partner (Alan Jordan)
into the Congressional Record this summer in honor of our work for equality, is once again not parsing words here. The press release is just below, and beneath that, the full letter. Game on, Ashton.
Grayson: Don't Prosecute Clerks Who Issue Gay Marriage Licenses

Congressman and Osceola Commissioner Grieb ask State Attorney Ashton to use "prosecutorial discretion" when legal rulings go into effect



(ORLANDO, FLA.) – Congressman Alan Grayson (FL-09) and Osceola County Commissioner Cheryl Grieb have asked Orange-Osceola State Attorney Jeff Ashton to confirm that local Clerks of Circuit Court will not be prosecuted for issuing marriage licenses to same sex couples.



Marriage equality opponents are trying to thwart a recent judicial ruling that allows the issuance of such licenses "by threatening charges against every" clerk in all but one county, says the letter that Grayson and Grieb sent to Ashton. "Taxpayer money would have to be used, and wasted, in defeating such efforts."



"A Florida court has ruled that refusing to issue such licenses is a denial of the equal-protection clause to same sex couple," the letter states. Osceola County leaders passed a motion in support of the Clerk accepting such marriage licenses as of 12:01 am on Jan. 6th, 2015.



"However, opponents of marriage equality are using the threat of criminal prosecution of clerks of court to delay implementation of the judge's ruling," the jointly-signed letter to Ashton states.



"We call upon you to confirm that unless Judge Hinkle's ruling is reversed…you will exercise your prosecutorial discretion to eschew any criminal action of any kind against the Clerks of Orange and Osceola Counties for adhering to the Court's mandate to issue licenses to otherwise qualifying same-sex couples," it states.