This Little Underground
is Orlando Weekly's music column providing perspective, live reviews and news on the city's music scene. Read the latest column here.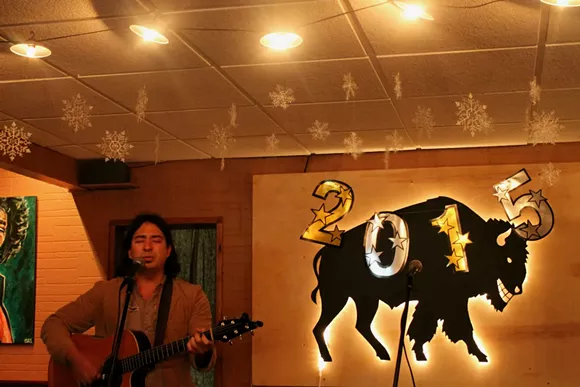 Ashley Belanger
Beartoe at Beth McKee's First Thursdays Songwriter Series

Beth McKee's First Thursday Songwriter Series
has been going for some time now and, apparently, it's not some obscure little gathering that matters only to its members. No, this is a
pretty big thing,
in fact. Local musician Beth McKee curates it with discernment and, consequently, it showcases some
pretty serious area talent.
To celebrate its 2014 run, the series just held a "New Year's Roundup" (Jan. 1, Smiling Bison).
Ashley Belanger
Wheeler Newman at Beth McKee's First Thursdays Songwriter Series
Upon entry, the place was a hive buzzing with lots of familiar songwriter faces, many of whom I've already
showered in roses.
Over the course of this blowout special, a dozen of them would perform. Of the eight performances I saw, the best were no surprises, including
Beartoe, Kattya Graham
and
Jackson and Forrest Rodgers. Wheeler Newman
– who's been decent with a band – really shined solo, sounding more assured than I've seen of him before. In recent years,
Justin Beckler
has been spending so much time in the producer's chair for many of Orlando's notables that seeing him work his own
distinguished rustic soul
behind the mic is a rare treat, and it one I was able to see here.
Ashley Belanger
Justin Beckler at Beth McKee's First Thursdays Songwriter Series
But goddamn,
Daniel Hanson
(Fat Night, Fast Preacher) commanded it stronger than anyone else in the time I was there. Seeing how much
steeze and butter
he was able to muster up there just by himself, it's clear this kid is now packing
rare star power.
He's come a very long way in a relatively short time to become one of the city's smoothest soul slingers.
Ashley Belanger
Daniel Hanson at Beth McKee's First Thursdays Songwriter Series
In sum, this was one of the
most credentialed local singer-songwriter lineups
I've ever seen. Almost just as important was that it completely packed the place out. Between its championing of the songwriter and its prestige in the community, McKee's First Thursday Songwriter Series offers one of the most vibrant and concentrated slices of Central Florida's top songwriter talent. The next one is
Feb. 5
(The Smiling Bison).
Follow Bao on Twitter (@baolehuu)

Email Bao: baolehuu@orlandoweekly.com