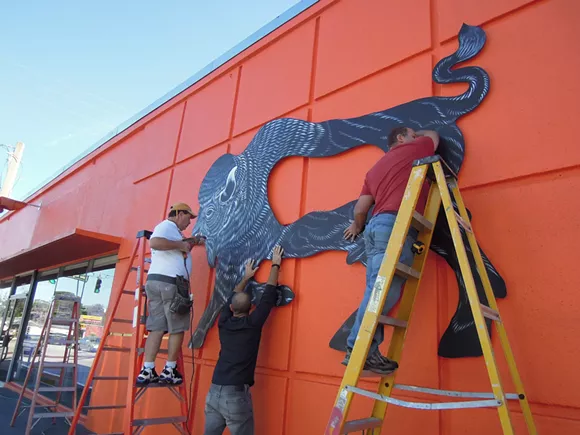 Today, rising young art star
Boy Kong
has another piece on another wall, but this time he got a little help from some friends. In collaboration with
ArtReach Orlando
, a local nonprofit that brings art programming to underserved schools and organizations in Orange County, this new piece was installed today on the front of Mills 50's distinctive Orange Studio on Mills Avenue.
The piece is reminiscent of Kong's
Play Nice, Die Young
series (which is somewhat ironic, considering his youthful co-artists) – a show that won him a Staff Pick in
Orlando Weekly
's annual Best of Orlando awards:
"Best Artist With Guts."
Play Nice, Die Young
was "inspired by the Greeks' 'black-figure' paintings" and gave us a glimpse into the guts of some of Kong's spirit animals.
The ArtReach mural features a buffalo with cut-out stomach, revealing cartoonishly happy cutouts of smiling pizza slices and cell phones – the favorite things of ArtReach All-Star workshop participants.
From the organization: "For the past two years ArtReach Orlando has offered project-specific grants to teaching artists and community organizations to create works of art with children in our service areas and this summer decided to honor the students, teachers and community partners who have participated in our programs during the past year by sponsoring a mural workshop led by renowned street artist Boy Kong culminating in a public art piece to be hosted in the heart of Orlando's street art mecca, Mills/50."