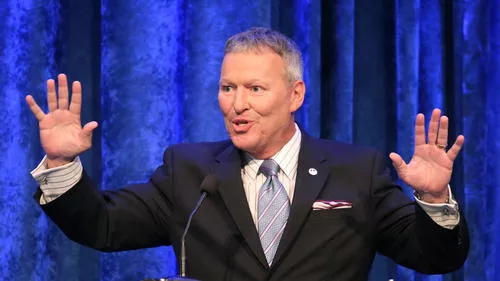 images via Orlando Sentinel
AHAHAHAHAHAHHAHAHAHAHHAHAHAHAHAHAHAHHA. Just as we were packing up our glad rags and bits of shredded dignity at the Weekly this afternoon, we caught – cough – wind that our favorite boyfriends (except for our real boyfriends)
Sentinel
glee-clubber Scott Maxwell and
bicycle-enthusiast Mayor Buddy Dyer
would be facing off (again?) at the
annual Otronicon event
at the Orlando Science Center. This one time,
we totally lost in a game of Centipede with Maxwell at Otronicon,
but the mayor has never even bothered to invite us to play Centipede with him. He only made us feel uncomfortable with actual war simulation games when our military-industrial complexion wasn't at its best. Anyway, we're a little miffed that Maxwell will not be playing this game with us, like he will be with the mayor:
Here's the press release as reported by Maxwell on his Facebook page. We're assuming it's real. You want it?
DYER VS. MAXWELL IN VIDEO GAME SHOWDOWN
Re-match Between Mayor Buddy Dyer and Scott Maxwell
To Celebrate 10 Years of Otronicon
WHAT: Orlando Mayor Buddy Dyer and Orlando Sentinel columnist Scott Maxwell will touch controllers and duke it out in "Super Smash Bros.," "Dance Central 3" and "Madden 15" for bragging rights as they engage in a rematch from Otronicon v.1 in 2006.
Their epic encounter celebrates 10 years of Otronicon — Orlando Science Center's largest event — which showcases the best interactive technology being created locally by companies including Lockheed Martin, EA SPORTS and Disney.
(Yes, Dance Central 3 will be every bit the geekfest you imagine.)