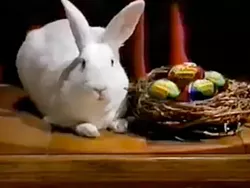 Word of tweaks to the chocolaty treat's formula went over hard yesterday, but
Cadbury Creme Egg
lovers in the U.S. can breathe easy — the eggs will be the same for us as they've always been.
If you grew up in an uncontacted rainforest tribe or a sugar-shunning Children of God commune or something, the Cadbury egg is a blob of sweet yellow goo surrounded by sweet white goo and enclosed in a chocolate shell, the size of an actual hen's egg, available only in the spring. The beloved treat is a high-points item in any kid's Easter basket, despite (/because) containing enough glucose to stun a pony; the only adult consumption scenario I can imagine would be a Cathy "ACK!!!" moment in the checkout line, maybe?
Clearly I am wrong, wrong, wrong about that, because since news dropped in the United Kingdom that Cadbury would 1) change the shell from the traditional milk chocolate to a "standard cocoa mix"; and 2) change the amount of eggs in a package to five from six*, Britons have been in an uproar.
Horror! Rage!
Shellshock
! "A triumph of the confectioner's art has been traduced!" (<< I did not make that headline up.)
(*I would truly enjoy laying eyes on a human person who could eat six of these diabetes grenades at a time, or even within the same seven-day span. Not sure this person exists.)
And yesterday, many U.S. outlets picked up the news, inducing a similar (if not
quite
so frantic) response in nostalgic American candy-eaters. But in fact, the
"sickly," "bizarre,"
"pasty,"
etc. recipe that Brits have shaken their pale, feeble fists at this week was poached from us, you could say. The American eggs will be the same as they've always been, so no need to scramble to stock up.
In related news: Don't fall down the same YouTube K-hole I did; that damn "Thanks, Eastah Bunny! Bawk-bawk!" commercial you may remember was for M&M's, not the Creme Egg. Curse you, blurry '80s nostalgia.