This Little Underground
is Orlando Weekly's music column providing perspective, live reviews and news on the city's music scene. Read the latest column here.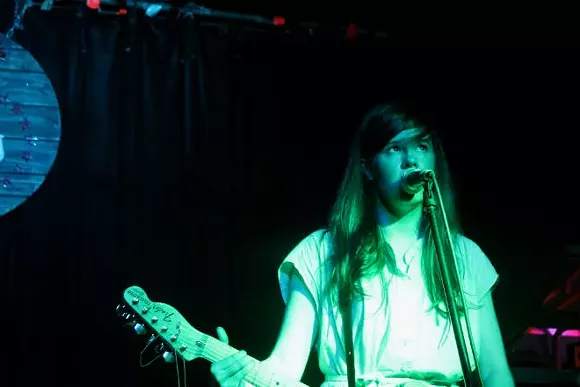 Ashley Belanger
Elisa Ambrogio at Will's Pub
Stepping out from noted Connecticut noisemakers
Magik Markers, Elisa Ambrogio
has been making some noise of her own recently since the release of her solo debut LP,
The Immoralist
, on
Drag City.
Down here on her
first Florida tour
(Jan. 13, Will's Pub), she was accompanied by Virginia's Nathan Bowles on drums. On guitar, Ambrogio is a
master of mood and sonic suggestion.
Her work with texture and mystique is enough to carry a room even with such a basic live arrangement.
Ashley Belanger
Elisa Ambrogio at Will's Pub
Little in Ambrogio's career so far suggests a propensity for predictability or neatly resolved musical ideas, but her solo work deals in the kind of
pop subversion
born of the friction between soft vulnerability and druggy atmospherics. Even with her occasional lack of definition, her acumen and heavy hand in crafting palpable ambiance have the ability to powerfully resolve all.
Ashley Belanger
Elisa Ambrogio at Will's Pub
Before Ambrogio,
Nathan Bowles
did his own performance, an arresting one. With folk credentials in acts like
Pelt
and
Black Twig Pickers,
Bowles couldn't come from a more different world. His skilled banjo artistry isn't the stuff of novelty or cliché. Merging
Appalachian sounds
with elements of
drone,
it's the kind of music that mines the essence of heritage, distills it and keeps it from slipping into quaint irrelevance. Bowles honors tradition, but he takes it out of its time capsule and keeps it a
breathing, thoughtful art form
capable of not just persisting but expanding.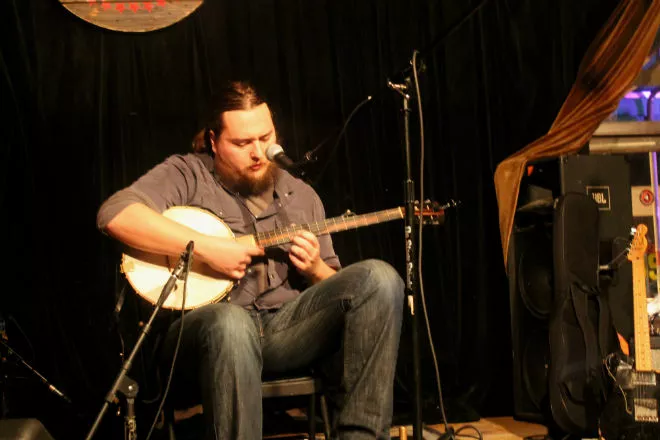 Ashley Belanger
Nathan Bowles at Will's Pub

Follow Bao on Twitter (@baolehuu)
Email Bao: [email protected]