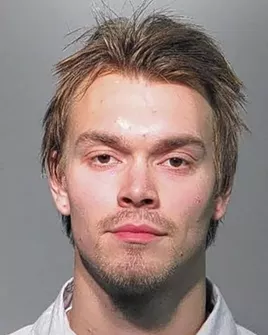 Yesterday, State Attorney Jeff Ashton released a letter he sent to the Orlando Police Department clearing Officer Eduardo Sanguino of any wrongdoing in an Aug. 19, 2014 incident in which he accidentally shot a woman inside a nightclub while he was
attempting to subdue a man
outside the bar. After an investigation by the Florida Department of Law Enforcement (which is making headlines for
other reasons
this week), which was completed in December, Ashton has determined that Sanguino's use of force "was justified and appropriate."
The short version of the story is this: In the early morning hours of Aug. 19, police were dispatched by 911 to the sidewalk outside Vixen. An intoxicated man named Kody Roach had been kicked out of the bar for allegedly waiving a gun around and, according to the person who called 911, acting like a maniac. Another 911 caller reported that somebody had actually shot 15 times into the club (a later investigation revealed that Roach had not discharged his gun at all, and that it was not even loaded). When officers arrived, the FDLE report indicates, Officer Sanguino "tactically approached" with his gun drawn. Roach walked out into the middle of Orange Avenue, and while Sanguino yelled at him to get down on the ground, he refused. According to Sanguino's interview with FDLE, Roach was shaking his head and asking police: "For what?" Roach then walked back toward the bar and attempted to get back inside. At that point, another officer tried to use a Taser on Roach, but it didn't work.
"Officer Sanguino stated that Roach grabbed at his 'crotch area' with a hand and reached for the waistband with the other, as if Roach was carrying a gun 'appendix style,'" the FDLE's report states. "Officer Sanguino believed Roach was reaching for his gun that he was carrying, based on the information he received from dispatch and the witnesses on scene. Subsequently, Officer Sanguino discharged his firearm at Roach to prevent Roach from accessing his waistband."
At that point, officers saw an "object" fall to the ground, which was later revealed to be an empty gun. One of the nine bullets Sanguino discharged went through the door of the club and hit a bar patron, Maria Fernada Godinez, killing her.
None of the other interviews the FDLE conducted contradict Sanguino's accounting of events, and an interview the FDLE conducted with Kody Roach himself indicated that he doesn't remember a lot from that night. Roach told investigators that he had met up with friends to go bar-hopping, and they arrived at the Sapphire Room at about 11 p.m. There, Roach says he had about 10 drinks and took some cocaine. At around midnight, he says, he left the Sapphire Room, but details of the rest of the evening were fuzzy. The FDLE report says he blacked out at some point, but remembers walking to the Vixen Bar and getting into fights with employees there (though he couldn't initially remember why).
"At some point, Roach ended up outside and recalled that there were police officers already there, outside the Vixen Bar," the report says. "Roach could not recall any details related to the police officer's actions. Roach did not recall what was said or commanded of him and did not know if he pulled out the firearm he had with him. The only details Roach could recall were that one of the officers was short and that flashlights were being pointed at him. Roach did not remember being 'tased' or when he was shot. Roach indicated he just woke up in the hospital with multiple gunshot wounds. Roach was told he was shot eight times, primarily on the left side, chest and shoulder."
In a later interview, Roach told investigators that he remembered drinking with two girls and that he got into an argument with a bartender over paying for drinks with one of the girls' credit cards, and that he eventually got thrown out of the club. Roach told the investigators that he didn't get on the ground when instructed by officers initially because "I didn't do anything." When asked what he would have done if the officers had put their hands on him to subdue him, Roach said he would have resisted and later indicated that he might have tried to use martial arts techniques to defend himself. He told investigators that he didn't intend to shoot anyone that night and that he carried a gun for personal protection; when pressed by investigators, he indicated that he might have shot the officers if he had to ... only, there were no bullets in his gun, so that's a bit of a moot point.
Ashton examined the evidence and reports and indicated that Roach's non-compliance and his "perceived imminent threat" toward the officers were enough reason for Sanguino to shoot. Ashton's letter to the Orlando Police Department outlining his decision not to press charges against Sanguino for his use of deadly force in the killing of Godinez indicates that the front door of Vixen was solid wood and the window of the bar was "boarded over," preventing the officers from knowing whether anyone was even on the other side of the door while they were shooting. Ashton also says that the bar's staff "did not appear to make any attempts to shield or notify their patrons of the danger just outside the front door. Unbeknownst to patrons, they would find themselves in the backdrop of the aforementioned deadly encounter."
"There is no evidence in this instance that any officer committed intentional misconduct or acted with any degree of malice," Ashton writes. "The the contrary, the evidence suggested that he acted in self-defense with force he believed to be reasonably necessary to prevent imminent death or great bodily harm to himself or fellow officers."
According to court records, Roach is still facing murder charges for causing the officer to shoot the bullet that killed Godinez.