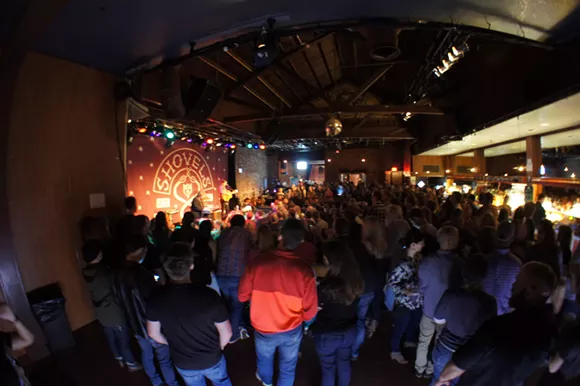 Michael Lothrop
Shovels & Rope and Caroline Rose at the Social


Swimmin' Time
, the latest album by South Carolina's
Shovels & Rope
(Jan. 21, The Social), is a well-appointed indie-folk work that balances edge and grace. Still, though it tries to even things out between the considerable forces of music and life partners
Cary Ann Hearst
and
Michael Trent,
she is the
undisputed sun
of this duo. She's a ball-snatching singer who funnels
Dolly Parton
presence and
Loretta Lynn
nerve into a single swig with a raw, cutting voice that should probably have its own carry license.
Michael Lothrop
Shovels & Rope at the Social
Hearst has been impressing since the mid 2000s but mostly as a
hot subterranean secret.
So I'll take anything that lifts this wrecking-ball voice up to as many ears as possible, and S&R's reach is far greater than hers ever was alone. But if you saw her on this very stage back in 2007 opening solo for
Band of Horses
as I did, you too might wonder if a couple skate is an improvement for a
gloriously wild horse
like her.
Michael Lothrop
Shovels & Rope at the Social
Well, the good news is that the live beast that is Shovels & Rope is a much better launch pad for Hearst's fireworks than their recordings, better than I was prepared for. Onstage, they pack ten times the dust and thrust. The
guitar-and-drums duo
thing is more often the province of garage rockers, but Hearst and Trent, like the
White Stripes
of Americana, harness the format to kick out country music with the same thrilling economy. With astonishing punch and personality, they do it well enough to be counted alongside the game's
most rocking two-pieces.
They were in this crowd's veins within seconds and never let off the gas.
That said, S&R fans – or fans of top-shelf, bare-knuckle alt-country in general – should delve back into Hearst's solo stuff and see if that don't raise any hairs.
Michael Lothrop
Shovels & Rope at the Social
Opener
Caroline Rose,
with pedal steel accompaniment, came packing heat of her own. First of all, you gotta appreciate a visiting artist who, instead of making a tired
Disney wisecrack
like everyone seems to think they're the first to do ever, actually expresses appreciation for being in the
real Orlando.
But her singing is what will make her welcome here from now on. A
big-voiced, indie-minded upcomer
in a similar mold as Hearst, she sings with a good, hard honky-tonk edge and can stomp the neo-traditionalist floorboards with enough verve to warrant keeping a
sharp eye
on.
Michael Lothrop
Caroline Rose at the Social
//////////////////////////////////////////////////////////////////////////////////////////////////
This Little Underground
is Orlando Weekly's music column providing perspective, live reviews and news on the city's music scene. Read the latest column here.
Follow Bao on Twitter (@baolehuu)
Email Bao: baolehuu@orlandoweekly.com