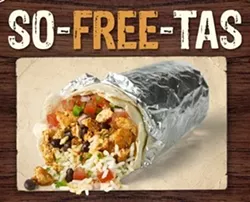 The holiday season, with its rich gooey desserts and savory roast beasts, has come to a close. Time to pay the piper: If you've made a New Year's resolution to weigh less (or just to eat less meat), Chipotle's got a deal you might want to try. Purchase a sofritas entree tomorrow
– Monday, Jan. 26 –
save your receipt, and then redeem said receipt for a free entree of your choice on a return visit anytime between Jan. 27 and Feb. 28.
Meatless Monday
observers, vegetarians, vegans or simply curious carnivores should give sofritas a shot. After all, it's
Chipotle's newest protein
, made of organic braised tofu, and it's spicy and savory, with cumin and pepper overtones and a firmer texture than ground beef – much more satisfying than the wet sponge that the non-tofu-familiar may have anticipated. And punching in as the
lowest-calorie item on the menu,
it's sure to be popular in diet-crazed January.
And hey, since the free meal is your call, if you don't dig sofritas, it's no loss – throw caution to the wind and get yourself that barbacoa burrito, extra guacamole.