Danny Feedback's The Crack Rock Opera art by Evan Shafran

DANNY FEEDBACK'S THE CRACK ROCK OPERA with Luscious Lisa, Room Full of Strangers, the Welzeins, Twigs 8 p.m. Saturday, Jan. 31 | Will's Pub, 1042 N. Mills Ave. | willspub.org | $8
Whatever you do, don't get between Officer Edolph Travoli and his nightstick this week. The raunchy musical known as
Danny Feedback's The Crack Rock Opera
is back, but it's a little different from the show you may have caught at the 2013 Fringe Festival, and they say the acting's definitely improved since the very first performance in 2011 at Theatre Downtown. At Fringe, the merry troupe of sicksters performed their warped portrayal of a "rock star who didn't want to be a rock star" with recorded music, but this week at Will's Pub, the music will be performed live to debut the new CD that finally tames the freak fest and captures the tale of "the hardest working man in show biz since James Brown died" in all its homophone-twisting glory.
"We tried to draw the jokes for this one a little bit longer for this particular performance and added the extra antics," Danny Feedback promises in an interview at Will's Pub, where he and Crack Rock Opera partner Evan Shafran are scoping out the lay of the land to mentally prepare for quick-draw improvs that elevate the insanity of the show, which also features Dirt McCoy on bass (Moonmen From Mars) and Keri Schwartz as a voice actor and scene-setting projectionist.
For attendees, the CD is included in the price of admission and features the crude, fanciful illustrations Shafran creates to depict the mayhem in store. The album alternates short sketches and all new original songs, mashing up dick jokes and faith gags with catchy tunes that are all over the place stylistically.

"We're not trying to make punk rock or garage rock," Danny Feedback says. "It's just like whatever song would sort of build on the show. We keep it eclectic. We don't want to do one style of music."
Shafran agrees, "Originality is a huge thing for me, personally. You know, everybody's got a band. Everybody plays their music and gets on stage and does their thing. To me, it's fun and a little above that in the form of entertainment, because the bottom line is we're here to entertain people. And everyone's seen a fucking band a million times. So I think it's kind of nice to step outside that box."
Danny Feedback's The Crack Rock Opera art by Evan Shafran
The album opens by introducing Danny Feedback, "a man on a quest for your salivation," followed by the earworm magic of "We're on Drugs," a song about preferring prescription drugs to street drugs with lyrics like "I've never tried heroin, but I sure do like my Ambien." What follows is a parade of personalities you'd hope to never encounter in The Real World but can snicker at indulgently, if you can get beyond the admittedly offensive humor that laughs off race, sexuality and every sensitive subject you could think to broach. Despite the shock show, there's a Harry Nilsson-esque sweetness to songs like "Jail Commissary" (with fuzzy guitars galore) and an almost regrettable croonability to "She Makes Me Horny All the Time." Toss in a playful, chaotic tantrum of a song called "Boredumb," a grizzled, drunken Christmas carol that's terrifyingly enthusiastic (like the Animal from the Muppets wrote it), and a crude parody version of "I'm Too Sexy" delivered in a thick Jersey accent, and you can start to see why Shafran and Danny Feedback have shirked their separate music projects a little (Happy Valley, Franchise) to focus on this novelty act they find creatively challenging and satisfying.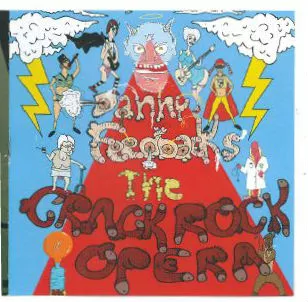 Danny Feedback's The Crack Rock Opera art by Evan Shafran
"We just started getting into this and kind of abandoned the music," Danny Feedback says.
While typically Danny Feedback says he likes to limit the bill to three bands, they've blown out the lineup (get your mind out of the gutter, Officer Travoli) for this special celebration, with lively local bands Luscious Lisa, Room Full of Strangers, the Welzeins and Twigs. Expect the night to be nonstop revelry, with punny impishness that requires a thick skin despite the skimpy costumes of The Crack Rock Opera's leading men.
Danny Feedback starts, "A lot of the jokes are not P.C. There's racial humor, religious humor – " and Shafran finishes his sentence, "raunchy sexual humor. We definitely don't have boundaries."