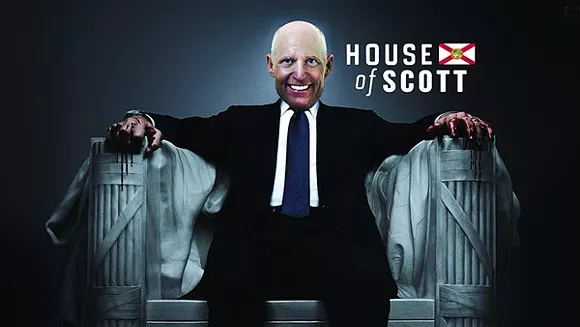 There goes Attorney General Pam Bondi, running her mouth again. Today, she told a group of reporters gathered at the Capitol that neither Gov. Rick Scott nor his cabinet are to blame for the abrupt and unseemly way in which FDLE Commissioner Gerald Bailey was kicked to the curb and replaced last month by Rick Swearingen, whom Scott promptly appointed as interim commissioner. Scott told the world that Bailey had "resigned." Bailey told everyone he was fired (or, "pressured to resign," as the
Tampa Bay Times
reports) after he refused to play along with requests that he agree to let campaign staffers use state cars to get around, tamper with criminal investigations and help write Scott's campaign platform on law-enforcement issues. Because, you know, state workers don't work for campaigns – they work for the state.
Everyone, including Scott cabinet members Adam Putnam (state Commissioner of Agriculture) and Jeff Atwater (CFO,
whom we endorsed in 2014
because we thought he was a pretty solid public servant who'd managed to stay out of the fray when it came to political bullshit and double-dealing), thought that sounded pretty fishy, and Putnam and Atwater are even calling for an
independent investigation
of the matter (read more by Billy Manes on that topic
here
and
here
).
But not Pam Bondi – she doesn't think Scott had anything to do with this mess, and she throws his staff under the bus for the mess, claiming they did it all behind Scott's back. Dirty plebes.
"Did I know that Jerry Bailey was going to be told he was fired and have his things packed up, his entire life as a career law enforcement officer in a cardboard box, and be told to be out of the office before the end of the day? Absolutely not. Nor do I believe the governor knew it," the News Service of Florida reports Bondi saying to reporters and editors gathered at the Capitol for the annual Associated Press Legislative Planning Session today.
She also added: "I do not think that Rick Scott would do that. I think it was done at the staff level. I firmly believe it was done at the staff level."
When pressed to explain how or why she's convinced this is the case, she has no evidence. Hasn't even discussed it with Scott. She just
knows,
you know?
Here's what
we
know: When Gov. Rick Scott was head of HCA/Columbia Healthcare, he was also blissfully unaware of any wrongdoing on the part of his staff, which was apparently bilking Medicaid and Medicare, in what would eventually become known as the
largest Medicare fraud in history.
The company, caught red-handed, paid $1.7 billion in fines for such practices as attaching false diagnoses to patient records, billing Medicare for home healthcare visits that weren't supposed to be covered, for filing reimbursement requests to cover its marketing and advertising costs (which it erroneously called "education) and more.
Scott told everybody it was a mistake. They did it behind his back, and he had no idea what was going on. He should have, and he was very, very sorry. He'll do better next time, guys. Promise:
"There's no question that mistakes were made and as CEO, I have to accept responsibility for those mistakes," he said. "I was focused on lowering costs and making the hospitals more efficient. I could have had more internal and external controls. I learned hard lessons, and I've taken that lesson and it's helped me become a better business person and a better leader."
Just like, we're sure, the Bailey firing/resignation misunderstanding is totally a mistake. While Scott has allegedly been busy creating jobs and making Florida a better place to live, he should have had more control of what was going on under his nose. But those unruly staffers, they just do what they want when you aren't looking. He'll do better next time, guys. Promise.