While the fallout from his well-publicized and excruciatingly analyzed
beef
with the
War on Drugs
is still warm, iconoclastic indie-rock star
Mark Kozelek
returned to town (Jan. 31, Dr. Phillips Center for the Performing Arts, Alexis & Jim Pugh Theater). I was hoping I might be able to resist the urge to write a
look-at-this-fucking-dick review,
but it's amazing how a big-mouth reputation can frame reception. Well, I walked into his solo acoustic show – a format that would feature him as undiluted and raw as it gets – with
big baggage,
and he ended up defying much of it.
Kozelek has a perilous
asshole -to-genius ratio.
He's a man whose astringent personality constantly threatens to eclipse his musical brilliance – a rub that, depending on your tolerance, is either intriguing or irritating. What arrived onstage this night, however, was a
generous performer
in both content – nearly
three hours'
worth – and engagement.
It must be said that Kozelek's music, especially solo, requires a
very focused atmosphere
for full effect, so the right conditions are much more crucial for him than for most artists. Not to validate any of his renowned bitchiness, but the man just needs to be put in certain venues. Here in this
fine arts theater,
at last in the most controlled of performance environments, he wasn't just happy (as Mark Kozelek does anyway) but
very effective.
His lyric-dense story songs swung between beautifully crystalline while on guitar and purposefully stark while on drums (a Spartan stand-up rig of just a floor tom and snare), but always atmospheric and always with
veins open.
But it turns out, that infamous elephant in the room –
his personality
– was integral to the show, and it didn't manifest like you'd think. Yes, his
edge
was unmistakably present, but so was his
humanity.
Unlike the blowhard he projects, he was sometimes nakedly candid,
humble even.
Deepening his already cutting rendition of those lyrics with told stories of the things behind them would've probably been enough. But his extemporaneous spoken reflections gave even straighter looks within. He conversed with the audience and shared very specific and even warm remembrances of Orlando. He even expressed
straight-up thankfulness
for the privilege of still being able to perform in front of appreciative people, even naming top area indie-rock promoter
Michael McRaney
(Foundation Presents) for believing in him for the past 19 years. Damn, didn't see that one coming. In addition to honoring requests, that intimacy even had him bring up a volunteer – female, of course, but who was admittedly not a musician – to help him on drums.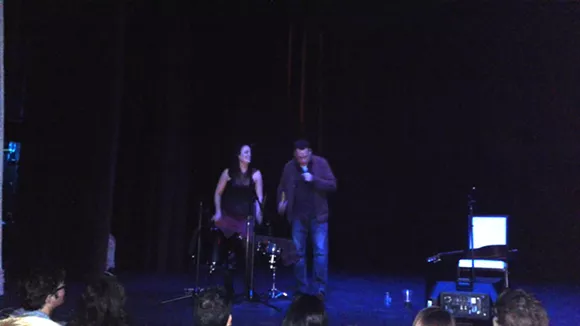 Mark Kozelek at the Dr. Phillips Center - The only time he allowed cell phones to be used was to capture him and an audience volunteer performing together.
As for Kozelek's Mr. Hyde side, that was wholly carried with
dark charm and humor.
In fact, he clearly exhibited the controlled pacing and deadpan of a comedian, even sometimes breaking form in laughter when something really tickled him.
Naturally, his mischievous side really hit apex when – by request – he performed his
controversially humorous diss song
"War on Drugs: Suck My Cock" as part of the finale of his main set. As if that wickedly sly little tune wasn't enough on its own, he wondered mid-song what it might sound like if sung by Glenn Danzig and then immediately followed the question by singing the chorus in
full-on Danzig croon
to uproarious audience laughter.
In context and totality, Kozelek just didn't quite add up to the
ogre
he appears to be. At least he didn't at this very special engagement. For Orlando, it was an evening of
rare connection and spontaneity.
////////////////////////////////////////////////////////////////////////////////////////////////////////////////////
This Little Underground
is Orlando Weekly's music column providing perspective, live reviews and news on the city's music scene. Read the latest column here.
Follow Bao on Twitter (@baolehuu)
Email Bao: baolehuu@orlandoweekly.com