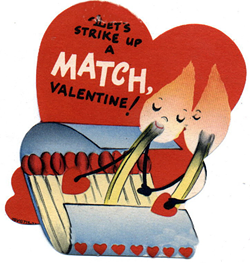 Since Valentine's Day dinner is traditional for dating couples and marrieds, this list is mostly food-related, but not all. Scan through for places to eat, sweets to nibble, cards to buy, shows to see and more — all local.
Valentine's Day Brunch at Enzian
– Special V-Day showing of
Sleepless in Seattle
. For $100, each couple will get brunch, coffee, tea, juice and unlimited mimosas. For $50 more, couples will be able to reserve a table and receive a gift bag and a complimentary bottle of champagne. Doors are at 10 a.m., brunch served from 10-11:30 a.m. and the film begins at 11:30 a.m.
V-Day Romance at the Rosen Centre Hotel
– For only $279, this package includes a four-course dinner at Everglades restaurant, breakfast for two at Café Gauguin and complimentary valet parking. Or, if you don't want to stay overnight, $139 per couple will get you a four-course dinner with wine pairing, valet parking and truffles.
DRIP
– 8:30 p.m. Feb. 12-14: All couples not only get to see the performance, but they also get a special edition DRIP t-shirt. There's also a complimentary paint station where you can paint your shirts or each other. You can get this for all for $54; for $104 you can get all that plus an open bar and photo shoot.

Krispy Kreme
– On Valentine's Day, get your choice of heart-shaped doughnuts, X's and O's, or a "Luv Bug." These specials are available at the following locations: Winter Park, Millenia and Kissimmee.
RA Sushi
– Come in and taste new items on their menu: There's the Red Heart Roll, which includes crab, avocado and cucumber rolled and topped with crispy tuna, spicy mayo and sriracha. A new drink, Passion Punch Bowl, consists of Amaretto di Saronno, pineapple vodka, passion fruit and aged rums.
Fogo de Cháo
– Dine at Fogo de Cháo Feb. 13-15 and receive a Valentine's Day card for a complimentary lunch or dinner on your next visit.
Barnie's Coffeekitchen
– (updated at the request of the restaurant) Valentine's couples receive a complementary framboise champagne cocktail; sweet endings to your meal include a Venezuelan chocolate soufflé with a Mexican vanilla bean creme Anglaise and a Sweetheart Latte, made with a mix of chocolate and cherry flavored coffee.
Sweet by Holly
– The Valentine's Day collection has arrived. Flavors include Coffee Streusel, Lemon Raspberry, Chocolate Cheesecake, Miss Mudslide and more. This V-Day package includes one dozen assorted mini cupcakes for $20. You can order by phone or online.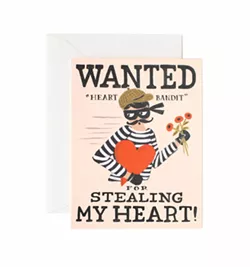 Valentine by Rifle Paper Co.
Rifle Paper Co.
– If you're looking for some unique Valentines to mail out, this is the place to go (but hurry if you're planning to actually mail them!). Local flavor from Hannibal Square – shop online, or visit them at 558 W. New England Ave., Winter Park.
The Venetian Room
– No longer accepting V-Day reservations, but some are still available for Feb. 13. Wine will be complimentary with paid entrée. For $129 you get two breakfast buffet coupons and overnight accommodations.
Fleming's Steakhouse
– The "Perfect Pairing" dinner comprises three wine-paired courses (including filet mignon, lobster tail and/or salmon) starting at $59.95 from Feb. 13-15.
The Melting Pot
– Specials from Feb. 13-15: $75 per guest includes a cheese fondue course, salad, entrée, chocolate fondue course and a melting pot gift bag – bag excluded on Feb. 15. For $10 more, you'll receive rose petals and a candle on your table.
Dunkin Donuts
– DD is not only bringing back our favorite Cookie Dough and Brownie Batter doughnut, but also this year they're introducing an all new White Chocolate Raspberry Coffee and Latte. The little heart toppings will leave you feeling all lovey-dovey. All four products are available at participating Orlando locations through the end of February.
Rocco's Italian Grille
– Rocco's will be open on Valentine's Day from 4:30-11 p.m., and Lorna Lambey and Scott Berry will be there from 8-11 p.m. to perform live music. Dinner specials: lobster bisque and lobster stuffed ravioli, paired with strawberry cheesecake served with coulis and chocolate-dipped strawberries.
RanGetsu
– Feb. 13-14, the Maitland Japanese restaurant and bar offers a special for $40 per person: Couples receive a "Love Boat," which includes lobster tails, green salads, crunchy bay scallops, a sweetheart roll, NY strip steak and more.
Scratch Tapas in Winter Park

Scratch
– A couples' prix-fixe dinner ($150), to which you may add wine pairings ($60). The prix-fixe dinner is a four-course meal, and you will be presented with three options for each course. The dessert is still to be determined, but check the
website
for a full list of options. And remember, #lovebites.
Shake Shack
– This gem may be a "roadside" burger stand, but nothing says "I love you" like a free shake for your partner. For one day only, with the purchase of one shake, you'll get another free (but make sure your lover gets it; don't be greedy). You'll find the shack over in Winter Park on North Orlando Avenue.
Indie-FolkFest
– The Mennello Museum of American Art is putting on this event, and it'll be from 2-7 p.m. out in the Sculpture Garden. Admission is free and pets are welcome. Enjoy music by Joseph Martens, PALEFACE and more. East End Market will have various picnic goodies for sale, and there will be a variety of craft cocktails and beer on the menu from Hanson's Shoe Repair, Lil' Indies and others. Celebrate this Valentine's Day with your family, and get in on the crafts available (fence-painting, making Valentines).
Dinner Party Project
– This dinner is limited to 60 guests and is strictly by donation only (suggested is $50-$75). A donation of this amount will get guests a locally sourced four-course dinner prepared by Farm-Haus, with various desserts from Project Pop, Baked Goodies and more. Barnie's Coffeekitchen will supply the caffeine, and Old Forester Bourbon will mix craft cocktails. Guests can relax, mingle, take snaps in an interactive photobooth and enjoy live music by Kaley Rutledge and Keith Kolakowski. Dinner is Feb. 13 at 7 p.m. Email dinnerpartyprojectorlando@gmail.com for tickets.
American Gymkhana
– If you're seeking a modern Indian experience this Valentine's Day, you're in luck. American Gymkhana is offering a six-course tasting menu for only $65 per person; wine pairings also available for an additional $35 per person. For the Kama's Bounty dessert, couples have a choice between Saffron Kalakand, Granny Smith Jalebi or Callebaut-Chili Bon Bons. This special is extended through Feb. 16.
Taverna Opa
– A prix fixe menu is available for $85 per couple. To start, couples will share both cold and hot courses, but will be entitled to their own dish of either Thallasino (Seafood Platter) or the Meat Platter. Don't forget to try the Sokolatina. This dessert is a chocolate cheesecake with hints of espresso and topped with chocolate ganache. The Sokolatina will leave you feeling as if it really was "Love at first bite."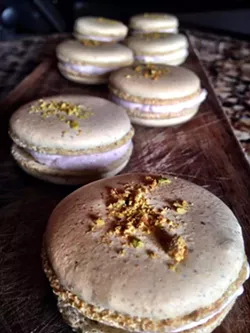 Swine & Sons pistachio macarons
American Q
– If you've already eaten but have a serious sweet tooth, American Q may be the place to go. The Love Haze cocktail, a holiday-exclusive beverage, is made with Prairie Organic Vodka, rose water, lavender simple syrup, fresh lime juice and berry olives, topped off with vanilla foam and raspberry caviar. Pair this with the Chambord Chocolate Lava Cake.
Swine & Sons
– Swine & Sons believe "the way to a person's heart is through their stomach." This year, you can purchase a Valentine's Day box that includes the ingredients needed to cook a meal. This is perfect if you're lacking creativity in the kitchen: Each box includes a bottle of red wine, truffled duck rillettes, chicken liver mousse, cured pork loin, Brillat Savarin tart, pickled root veggies, champagne-macerated strawberries, chocolate cremeux with chantilly, pistachio macarons and mini madeleine. Boxes are only $60 each and if you Instagram your meal, including the contents in the box, you could win a S&S gift card ($15 value). Just be sure to tag #SwineandSons. To order, call Cask & Larder at 321-280-4200 and pickup will be between 2-6 p.m. on Feb. 13.
Medieval Times
– For the Game of Thrones-loving couple,this is a fairy-tale Valentine's Day package: Two admissions to Medieval Times' extravagant feast and tournament, a photo and frame, two glasses of champagne, his-and-hers flags and more. This special is $99 per couple and is running Feb. 5-16 at the Kissimmee location only. To make a reservation, call 1-800-WE-JOUST and be sure to have the reference code (VDAYWEB15) handy.
Cress Brunch on the Farm
– On Feb. 15 from 1-4 p.m., enjoy the beautiful sunshine out at Tomazin Farms in Samsula. For $60, you get a farm tour and a pre-brunch wine pairing table. This price includes tax, wine and tip. The menu is to be announced, but many of the ingredients were harvested near or from the farm itself. Hurry, there are just 10 tickets left.
Winter Park Playhouse
– For only $18 and a one-drink minimum, you and your lover can head on over to Winter Park Playhouse to see Janine Klein's newest cabaret "Let's Fall in Love" Feb. 17-18. The wickedly funny Klein, a professional singer and actress for over 20 years, will perform love songs in honor of V-Day. Once the general admission tickets are sold out, there will be "standing room" tickets available for $10.
Spencer's for Steaks and Chops
– Just $100 per person (wine pairing an additional $60 per person) gets you an exclusive Chef's Seasonal Tasting menu which includes lobster (Japanese inspired) and diver scallops. Chocolate and passion fruit dessert will also be served. For starting rates of $149 or more, couples can stay overnight at the resort and indulge in a couples massage.
Stonewood Grill & Tavern
– Feb. 12-16, Stonewood is offering guests a raspberry créme brulée and sparkling wine (a toast's worth) for only $15. Make this dessert the sweet ending to the Royal Pairing: For $39 per person, enjoy a queen cut of New York strip and Alaskan king crab legs.
Leu Gardens Valentine's Stroll
– Enjoy performances by Ricky and the Buzzcatz, Daniel Heitz Band and the Shed Hounds as you wander around Leu Gardens with your significant other. This event runs from 7-10 p.m. and alcohol is permitted. Pack a picnic, bring a lawn chair and enjoy the luminous lighting throughout the gardens. Tickets range from $12-$22 depending on when you purchase.
A Night to Dismember
– Don't want to celebrate Valentine's Day the old-fashioned way? You're in luck: This year, the Shallow Grave opens early for a special Valentine's event, "A Night to Dismember." There will be two houses: ADHD (Attention Deficit Haunt Disorder) and Haunted Hills. You'll have the option of attending on Feb. 13 or 14, and if you decide to go Feb. 14, both houses will be "Lights Out," which means you'll have nothing more than a glowstick or maybe a flashlight to guide you. Tickets range from $13-$20. Keep your fear hidden and your lover close.