Jim Leatherman
Boyfrndz at Will's Pub
In case you hadn't yet noticed, one of the core subtexts of this column is that
small shows
are the
frontier.
It's a point I keep hammering because the amazing train of
future names
that's been passing through right under your noses and radars shouldn't just be the exclusive province of scene insiders. Get on in here.
The latest reminder of this is the return of Austin's
Boyfrndz
(Feb. 10, Will's Pub). They came through Orlando back in 2011 and totally
fried my brain
as a blind discovery at a little show at
Uncle Lou's
(here's the
mark
they left). They were a brand new act then. Now, they're a
signed band
(on heavy Philly label
Brutal Panda
alongside certified ass-kickers like
Whores, Black Tusk, Helms Alee, Cherubs
and
Kowloon Walled City
), and they came back even bigger, better and more complete.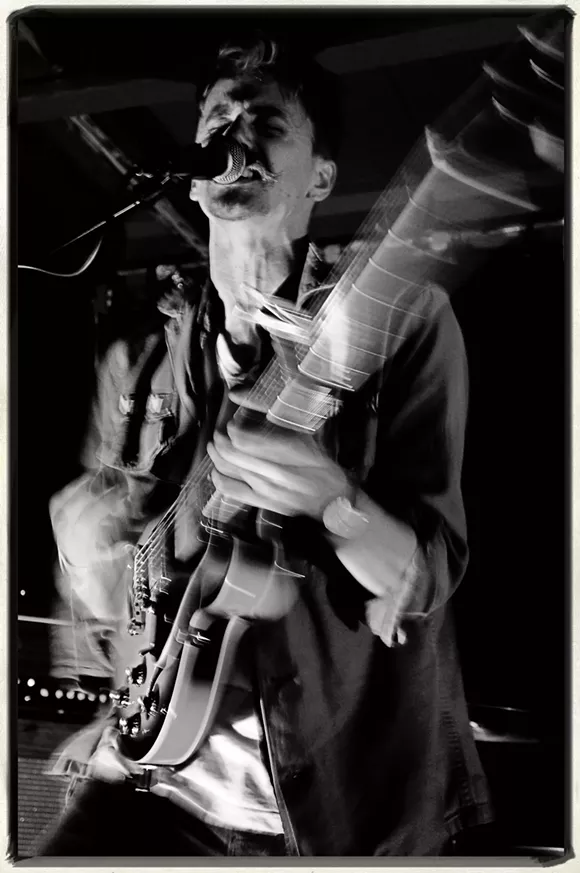 Jim Leatherman
Boyfrndz at Will's Pub
On multiple levels, Boyfrndz are
magicians.
First, they achieve the curious trick of being both intricate and monolithic. But more cosmically, their experimental rock manages to
challenge convention
without being an intellectual pill. Oh, they've got more than enough math for the geeks to chew on, but they can connect with the rest of us
right at the viscera.
That two-in-one there is a pretty rare rabbit to pull out of your hat, and it deserves all the world's credit.
Jim Leatherman
Boyfrndz at Will's Pub
Boyfrndz were already impressive early on with just their music and raw energy. But they're exponentially more so now with a grander, more finished sonic vision and a more striking live presentation with their own sharp lighting scheme. Don't sleep on this upward band.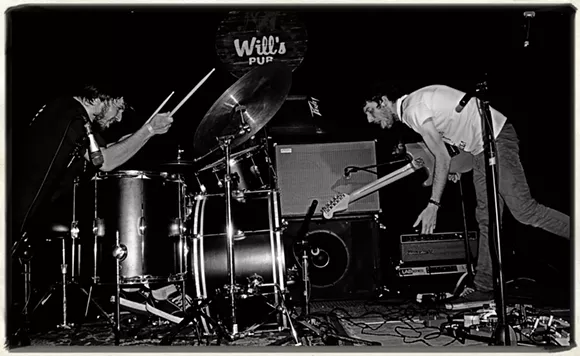 Jim Leatherman
Caddywhompus at Will's Pub
Caddywhompus,
their New Orleans tourmates, also pack some wizardry of their own. Complex but not overwrought, the
spirited tech-rock
of this guitar-and-drums duo proves that angular dynamics and open, skyward melodies need not be mutually exclusive forces. Their approach is every inch as oblique as their name suggests, but rather than getting mired down in an academic labyrinth, they take to the air with minimalist arrangement and
maximalist playing.


Ashley Belanger
Crit at Will's Pub
The night also offered a glimpse at a couple fresh new local bands. A last-minute lineup replacement,
Crit
turned out to be a
juicy discovery.
Comprised of members from notable acts like
Jr. Meowzer, Flashlights
and
Surfin' Serf,
they actually began as a
Weakerthans
cover band for the New Year's party at
Cloud 9,
according to frontman
McCarty Johnson.
An immediately bright band with real potential, they play beefy, driving '90s-style indie rock that not only allures with a
gentle-but-loud sound
but intrigues with unusual edges and surprises. This is one to watch.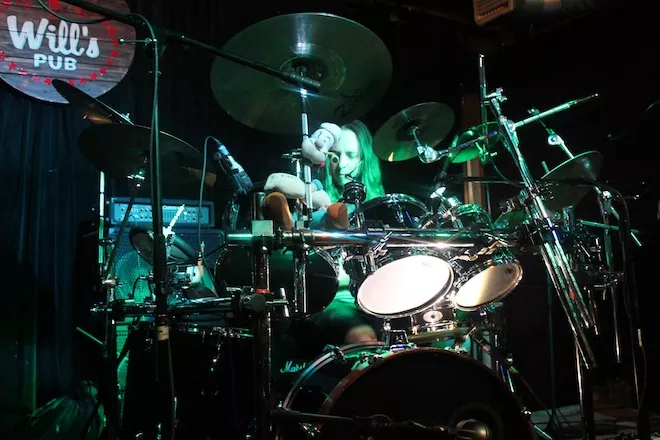 Ashley Belanger
Lanterns at Will's Pub
Opening the night was ambient post-rock band
Lanterns.
The first, most indelible impression they make is with that
arena drum kit
of theirs, which, depending on your sensibilities, is either sick or goofy. Either way, that degree of gear implicitly requires a
certain license,
and there's still a lot of growing room to go for Lanterns to validate all that hardware.
The thing about technical rock like theirs is that it has a
small margin of error.
The training wheels will always show until it all
clicks
and not a second before. Right now, Lanterns' playing has
more notes than chops
and their sound is more of a stilted, embryonic exercise than a real feeling. But let's see what happens with more cooking.
////////////////////////////////////////////////////////////////////////////////////////////
This Little Underground
is Orlando Weekly's music column providing perspective, live reviews and news on the city's music scene. Read the latest column here.

Follow Bao on Twitter (@baolehuu)
Email Bao: baolehuu@orlandoweekly.com