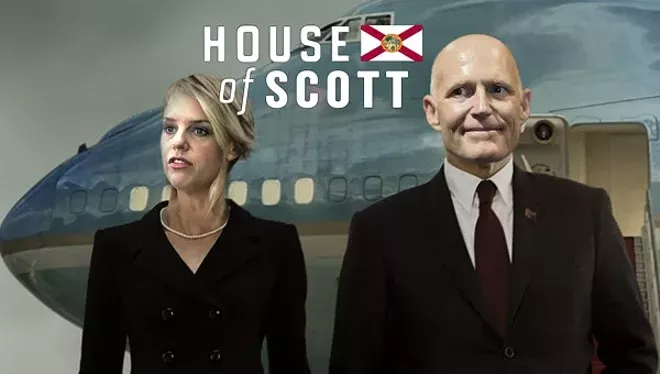 In the odd case that you've allowed Gov. Rick Scott's latest scandal sink into the pablum of the rest of his scandals, let it be noted that, just yesterday,
more than 10,000 signature were delivered to State Attorney Willie Meggs
– he of the "I didn't see anything wrong with backroom dealings, because, uh, my plate is already full" – by our friends at Progress Florida. It should be noted that all of this has been a gross violation of just about everything that the Sunshine Laws of this state represent, and all of the machinations to make it seem otherwise are even more deplorable. All the games of "not it" that have been going on are doing nobody any public relations favors, so perhaps a federal investigation is in order. YOU THINK? We've been covering this collapsing House of Cards at length:
here,
here,
here
,
here,
and
here,
in case you need to catch up. But when public officials privately meet to force the ouster of a public figure – namely FDLE commissioner Jerry Bailey – for the sake of padding a governor and a cabinet that clearly care nothing about the law, then we have a problem, Florida. Sure, there's no election going on right now. But, just remember that (in addition to the fact that Gov. Scott has delusions of presidential grandeur and Attorney General Pam Bondi hates gay people who are her best friends)
former Florida Governor Jeb Bush is having his own public records disaster
at present as he attempts a presidential run. Florida Man isn't always a guy with a meth-bomb on his face. Sometimes it's the guy you elected.