(You may have heard of it; it's just south of here.) These 43 square miles of property are not just a place of American idolatry, a
or possibly the only reason some of us ever moved here – no, those 30,000-plus acres should exert a call to Orlandoans to step out for a night and embrace the resort at which many Orlandoans make a living, or at least make some of our favorite memories.
That's right, I'm talking about that terrible word, but wonderful idea: the
staycation
. Choosing Disney World as your vacation destination for any amount of days/nights is a fairly steep price commitment, so you may as well surrender to the siren's call and stay inside the so-called
"Disney Bubble."
There are definite benefits to staying on-site. The best advice for a one-night stay is to choose a night with late park hours and/or evening Extra Magic Hours. Another benefit is the use of Disney transportation; this way you won't catch a DUI after you overconsume alcohol at Epcot. (See, Disney is OK with some drugs!)
On with the show! A couple of ground rules:
All "deluxe" resorts will be left off this list. It's on you if you choose to spend more than $300 for one night at any hotel room. I've included the rates I pulled today from Disney's website, but even the Dolphin can be booked for under $200 if you dig hard enough.

This list is for one-night getaways, therefore I am only including resorts on Disney property. If you are going to stay on I-Drive, you might as well just drive home. Even if that home is in Manchester.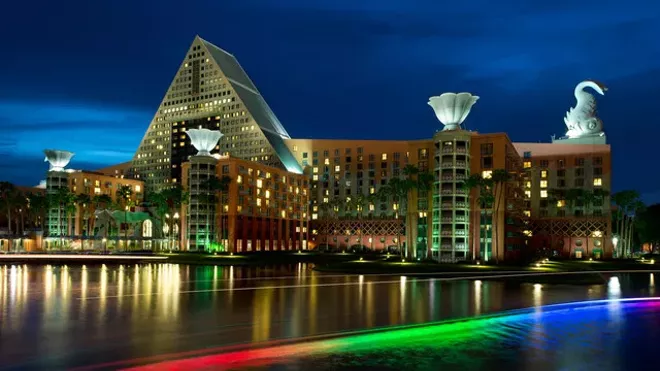 Walt Disney World Dolphin Resort via disneyworld.disney.go.com

1) Walt Disney World Dolphin Resort
OK, I'm technically breaking one of the ground rules from the start because the Dolphin is considered a "deluxe resort" by Disney's definition. However, it is priced in line with Disney's "moderate" resorts. You will miss a little bit of the Disney "magic" by staying here, but it tops our list due to the following: room views of both Epcot and Hollywood Studios, comfortable beds, and location, location, location. We previously touched upon getting tipsy at Epcot. The Dolphin is not only a 15-minute walk from both Epcot and Hollywood Studios, but it is also impossible to miss this Michael Graves nightmare/masterpiece. You will NOT get lost.
Walt Disney World Dolphin: $249/night
2) Port Orleans French Quarter
Why? Because beignets!!! (Seriously, eat 'em.) Plus French Quarter is easily the most walkable resort on Disney property. and the alleyways have silly names like Rue D'Baga – so what's not to love here? Well, for one thing, Disney relieved Elliot Dyson of his entertaining duties at Scat Cats and replaced him with a pile of vanilla pudding. I can't begin to explain the majesty that was Elliot Dyson at Scat Cats, so I'll save it for a separate blog post. Let's just say that this dismissal is what brought French Quarter down in the rankings.
Port Orleans French Quarter: $162/night
Pop Century Resort via disneyworld.disney.go.com

3) Pop Century Resort
If Pop Century had a hot tub it very well might have topped this list. It still retains a high ranking simply due to affordability: This resort falls into Disney's "value" category. While $100/night may not seem like much of a value, it's the cheapest you are going to get from the Mouse. Don't worry, there are plenty of giant statues of animated dogs to make it worth your while.
Pop Century: $95/night
4) Coronado Springs Resort
To drive home how important hot tubs are to me, Coronado Springs jumps to No. 4 on this list simply for having the largest hot tub on Disney property. As mentioned in a
previous post,
they also have free peanut butter. Other than that, there are some cool cacti and not much else, though it can be quite a treat to watch drunk conventioneers cut a rug at Club Rix. Actually, I take that back, Club Rix is the most frightening place on earth.
Coronado Springs: $167/night
Coronado Springs Resort via disneyworld.disney.go.com
5) All Star Music Resort
Very similar in style to Pop Century and cheap, cheap, cheap. To be honest, it makes the list strictly for the oversized marimba in the Calypso section of the resort. Bus transportation can be kind of hassle, so plan accordingly.
All Star Music: $85/night
6) Art of Animation Resort

Rounding out our top six is the recently built Art of Animation Resort. Originally intended to be an extension of Pop Century covering the first half of the 20th century (because who doesn't want a room themed to the Great Depression, right??), the Art of Animation Resort takes the "giant statue" theme a step further and immerses you in the worlds of
Cars, The Lion King, Finding Nemo
and
The Little Mermaid.
It falls to No. 6 on the charts because I think
Cars
is kind of a stupid movie.
Art of Animation: $109/night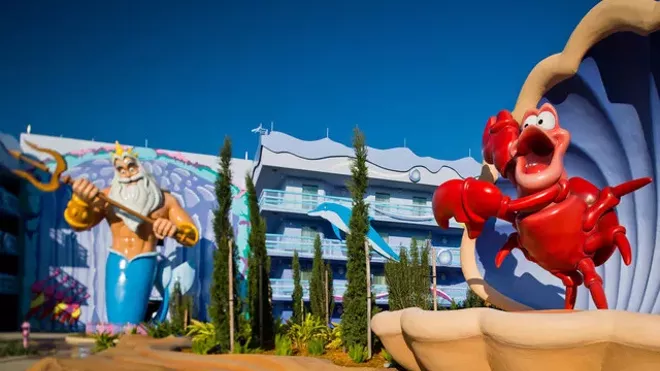 Art of Animation Resort via disneyworld.disney.go.com
Bonus: Avoid these two hotels!
Saratoga Springs Resort
This place looks like an apartment complex in MetroWest. You likely already live in one of those. At one point I was going to take a Disney Vacation Club tour just to get the free gift card they supposedly give to you at the end of the pitch. This tour was to take place at Saratoga Springs Resort. Needless to say, it was not worth any amount of money to waste my vacation time touring apartment homes on Kirkman Drive. It's that ugly.
Caribbean Beach Resort
Let me first say that I love Centertown, the food court/gift shop/common area of this hotel. What I do not love is terrible customer service. Between Shutters, the one sit-down restaurant at the resort, and the attitude I have been given by management at Caribbean Beach, I simply cannot recommend this resort to anyone.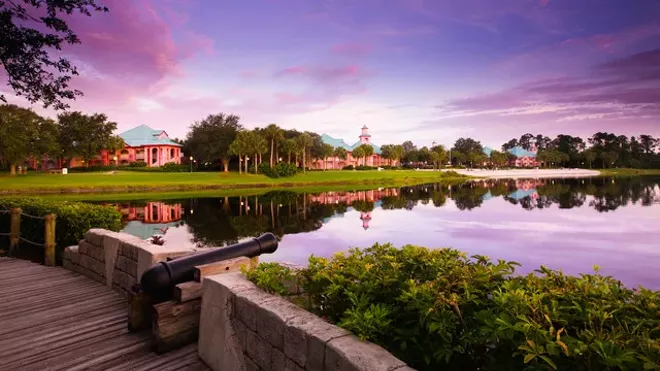 Caribbean Beach Resort via disneyworld.disney.go.com