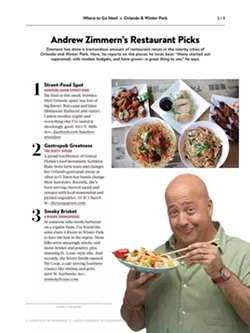 It's no secret, Orlando's been getting a lot of love lately. Everyone from the
New York Times
to
USA Today
to
Alton Brown
has sung our little town's praises in the past year or so, so this
roundup in Food & Wine magazine
should come as no surprise. Consider it Internet-official: You have eternal bragging rights over a lot of your out-of-town friends and relatives – or anyone who thinks all we've got to offer is Disney, Universal and the Holy Land Experience.
So Andrew Zimmern, he of the
Bizarre
eating habits
and
inspirational life story
, visited the City Beautiful and his list of picks is almost exactly what ours would be. No shockers here, but it's always nice to feel the national spotlight shining on us. Zimmern singled out eight greats, and
Anna Bond
of Rifle Paper Co. came in for the assist with another handful of classics, adding up to
"12 Places to Stay, Eat and Shop in and Around Orlando."
Zimmern's picks and some excerpts of his praise:
The new Four Seasons Orlando at WDW (OK, so this one is theme-park-a-riffiic.)

4 Rivers Smokehouse

Hawkers Asian Srteet Fare: "The food at this small, Formica-tiled Orlando space has lots of big flavors ... everything I've tasted is shockingly good."

The Rusty Spoon: "A proud torchbearer of Central Florida's food movement, Kathleen Blake hosts farm tours and changes her Orlando gastropub menu as often as O-Town boy bands change their hairstyles." (Hmm, O-Town boy bands ... are there any of those anymore?)

Black Bean Deli: "Local wisdom holds that this Winter Park lunch spot (which just opened an Orlando outpost) serves the best fried plantains this side of Cuba."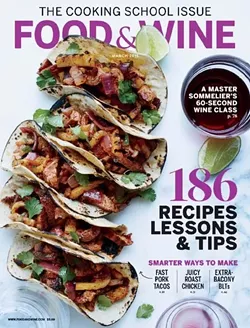 Bond's picks:
Barnie's CoffeeKitchen, Winter Park: "It's the coffee shop where my creative circle hangs out," says Bond, who recommends finding a seat in the courtyard.

Stardust Video & Coffee

The Imperial: "This shop has been around since I moved here, but I never went in until they partnered with a woodworking friend of mine to build a bar. They have a lot of great Florida craft beers, like ones from Cigar City Brewing in Tampa," says Bond.

Like we said ... if you can only pick a dozen great Orlando places (difficult), this is a pretty excellent roundup.