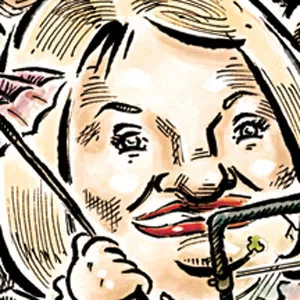 Illustration by Shan Stumpf
So, we have a thing for former commish and rep Linda Stewart, largely because she holds nothing back and talks like she's screaming with southern joy all the time. Today, she phoned us up to let us know that she is actively considering running again for public office, this time to replace
Beefy King state Sen. Andy Gardiner, R-Orlando
in Senate District 13. Of course, Stewart is one lovable noise of political ambition and progressive thinking, so we're all about it. She once
sang Kenny and Dolly's "Islands in the Stream"
with us while we wrote a story about her mayoral run. THAT'S HOW MUCH WE LOVE HER. At any rate, it's all in the "feeling it out" stage, and there are lots of folks lining up for the seat, including Gardiner's wife (weird how that happens) and
Judge "Rick" Roach.
Stewart tells us that she thinks she can win, however. There's a bit of a groundswell expected in the Hillary/Elizabeth/IAMWOMANHEARMEROAR moments that are bound to represent the Democratic Party in 2016, and the huge district, she says, "can be won by a Democrat." She's counting on progressives and gays, etc. But she also knows that she has the chops, she says. So here we go.