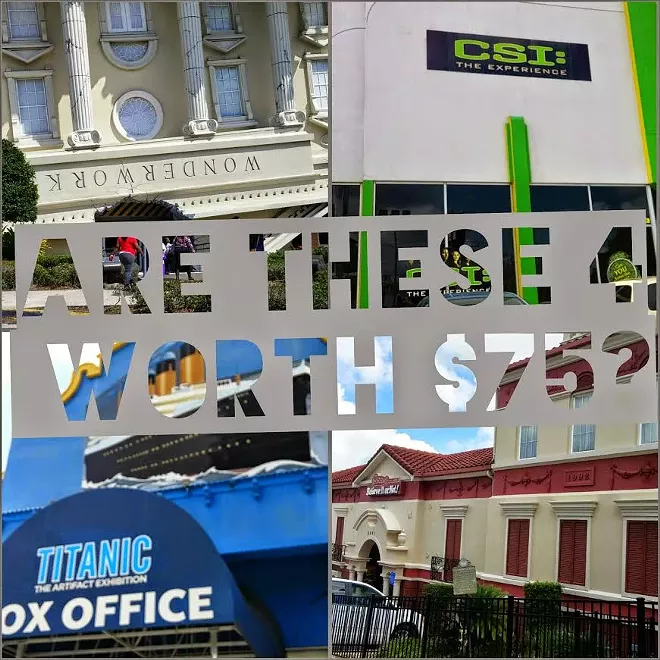 As International Drive evolves and a number of massive new attractions are on track to open over the next two years (the announcement was just made that
Skyfall,
the world's tallest drop-tower ride, will call I-Drive home in 2016; it'll be located in the Skyplex, which will also feature the
Polercoaster,
which will be the world's tallest roller coaster), many of the older businesses that have called the strip home for years are finding themselves having to up their games to compete. Four of I-Drive's anchor attractions, for instance, have joined forces to make sure tourists don't overlook them on the way to one of the new kids on the block. CSI: The Experience, Ripley's Orlando Odditorium, Titanic: The Artifact Exhibition and WonderWorks now offer a new
I-Drive Four Pass
combo ticket that includes a single admission to each of the attractions.
The new I-Drive combo ticket is $74.99 for adults and $54.99 for kids. It's a good deal if you plan on visiting all four attractions – a savings of about $12. If you plan on only doing three or fewer of the attractions, however, the new combo ticket actually works out to be more expensive than if you purchased tickets individually. The main competitor for this new combo ticket is
I-Drive 360's Merlin package.
There you can get tickets to the Orlando Eye, Madam Tussauds and the Sea Life Aquarium for $35 if purchased in advance. The new attractions aren't open yet, but they should be up and running by May 4.
This I-Drive Four Pass combo is offered through Titanic's parent company, Premier Exhibitions. This is noteworthy because at one time it was announced that Titanic would join the line-up at I-Drive 360, but those plans fell through and Titanic will remain at its current home next door to CSI: The Experience. Ripley's, meanwhile, is located directly beside the I-Drive 360 complex – some early rumors pointed to a group ticket between Ripley's and the attractions at I-Drive 360, but if there was ever any truth to that story, nothing seems to have come of it.