In the Arts section of yesterday's
New York Times
, an article about small museums moving into showing and collecting contemporary art ran: "
Cedar Grove, Peabody Essex and Other Niche Museums Foray Into Contemporary Art
." Though it dealt primarily with those New York facilities, Orlandoan NYT readers who skipped over it for that reason missed a cameo appearance at the end of the piece from our own Cornell Fine Arts Museum and its director, Ena Heller:
But the shift in focus is more striking when the museum has fewer holdings in the first place. And all it takes is one big gift to move the needle.

In 2013 the Cornell Fine Arts Museum at Rollins College in Winter Park, Fla., began receiving a gift of 235 contemporary works from Barbara and Ted Alfond.

"Previously, we had about 20 works from the 21st century," said the museum's director, Ena Heller, who noted that the Cornell was previously best known for its holdings of old masters and 18th- and 19th-century art. "Now we have this other bookend."

The Alfond Collection of Contemporary Art — including works by Vik Muniz, Tracey Emin and Alfredo Jaar — is so significant that it represents 75 percent of all the works that have entered the museum's collection in the last decade.

Some of the collection was recently on view in an exhibition called "Fractured Narratives: A Strategy to Engage," and Ms. Heller said the Cornell's status as a teaching museum made the gift especially "relevant," a word that frequently comes up with institutions moving toward contemporary art.

"It's art that's being made today and that resonates more with the 18-to-21-year-old group than what was made 300 years ago," she said. "We need to show where we are now."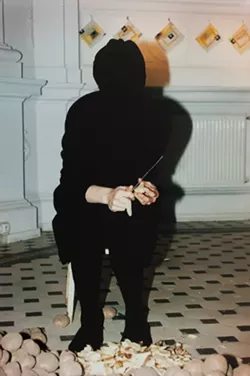 From "Fractured Narratives: A Strategy to Engage": "Anti-Collage (Julita Wojcik)" 2011, by Goshka Macuga, b. 1967, Warsaw, Poland, silkscreen on hand-printed photograph, edition 3 of 3, courtesy of the artist and Andrew Kreps Gallery, New York
Collecting contemporary art is a canny move for smaller organizations, for the perhaps-crass but still true fact that it's often less expensive: One could acquire several very fine pieces, even by "name" artists like Jeff Koons or Damien Hirst, for the price of a lesser Picasso or Monet.
There are drawbacks to collecting contemporary art, particularly for institutions with staff or board members who aren't fully on board: Issues of preservation (Hirst's shark is rotting away in its formaldehyde); issues of space (no doubt Tracey Emin's bed is as much of a pain in the ass to install – and takes up as much room – as it is and does to store properly); and context (large-scale pieces like Urs Fischer's teddy bears or installations like Tom Sachs' Nutsy's series are often site-specific). Film and performance work present their own acquisition challenges – including, surely, convincing board members to spend money on something they can't hang on a wall. Orlando Museum of Art decided years ago to focus its acquisition on American works after 1945, amassing a respectable collection (including work by Ed Ruscha, Robert Rauschenberg, Elizabeth Peyton and Jennifer Bartlett), and accomplishing the twin goals of frugality and familiarity.
The payoff of contemporary art, as Dr. Heller points out, is attendance: "art that's being made today and that resonates more with the 18-to-21-year-old group." That's something our local institutions are beginning to take advantage of, and we can only thank the new leadership in town for bringing us all these new opportunities to feast our eyes.