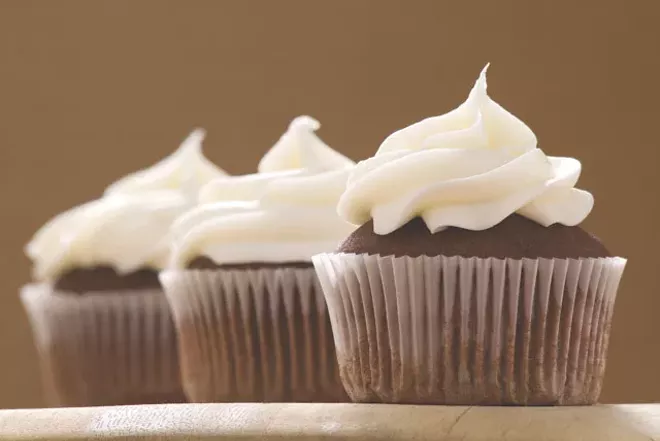 In which we go beyond the Shamrock shake to satisfy the sweeties-cravings of any St. Paddy's day celebrant: two recipes, one based on a classic Irish combo, one on a popular though questionable "Irish" shot. The Irish Car Bomb cupcakes are tasty as hell, but If you're not a cupcake fan (or not a fan of diminishing a serious political conflict in which so many lives have been lost to ... cake), try the whiskey ice cream with bittersweet chocolate Guinness sauce, below.
When we Irished up these recipes in St. Patrick's Days past, we also modified a classic Irish drinking toast to match: May you always have a clean shirt, a clear conscience, enough coins for another pint, and a cupcake close at hand.
IRISH CAR BOMB CUPCAKES
Ah, the Irish car bomb: Is it a harmless St. Patrick's Day shot or is it an invitation to get punched by the bartender? (Depends on what kind of Irish bar you're in. If there are more than three women, you're probably safe.) Hate it or love it, the foamy combo of Guinness stout, Irish whiskey and Baileys Irish Cream goes down easy and works fast to explode your inhibitions and your liver. These "buns" (as an expatriate friend tells me cupcakes are called in Ireland) may not have quite as immediate an effect, but don't worry, they're plenty boozy. The recipe makes use of some shortcuts because, let's face it, it's more about the buzz than proving your gourmet-cooking cred. Who has time to clean the KitchenAid on St. Patrick's Day?
chocolate-Guinness cupcakes
:
1 box chocolate cake mix (any type that promises "fudgy" or "super moist")

eggs and oil as directed on box

1 tall can Guinness stout

Prepare the cupcakes as directed on the back of the box, but use Guinness instead of water; one can should provide more than enough. (For the cupcakes, anyway.) While cupcakes are cooling, prepare the filling.
whiskey-Nutella filling
:
5 ounces mascarpone (or half sour cream, half cream cheese)

6 ounces Nutella

3 ounces Irish whiskey

Blend together with an electric hand mixer or wooden spoon until just combined. (If you use a mixer, rinse off the beaters now. Don't forget to lick them first.)
Using a small, sharp paring knife, cut a cone-shaped divot out of each cupcake, then spoon in the whiskey-Nutella-mascarpone filling. Don't worry if it doesn't look perfect; it will be covered with frosting. Maybe have a tiny shot of whiskey and/or the leftover Guinness about now.
Baileys Irish Cream frosting
:
1 stick of butter (4 ounces)

3 cups of powdered sugar

1/2 cup of Baileys Irish Cream

Beat the butter with a hand mixer until it's fluffy, then add the sugar gradually, a tablespoon at a time. (Or, you know what, fuck it; forget that and just use canned frosting. It won't taste quite as good, but it'll be good enough for drunk snacks.) Beat in the Baileys gradually, a tablespoon or so at a time.
Pack the frosting into a 1-gallon Ziploc and snip off one corner. Use this ad hoc piping bag to squirt frosting straight down onto the cupcakes, sort of the same way you serve frozen yogurt into a dish: It will spread out to the edges and leave a point on top. If you're fancy, dust a tiny pinch of instant espresso over each frosted cupcake. Sláinte!
WHISKEY ICE CREAM WITH BITTERSWEET CHOCOLATE GUINNESS SAUCE
St. Patrick's Day is more of a beer-drinking holiday than an occasion for mixed drinks, though there have been plenty of attempts made at Irishing up the cocktail – mostly sad, misguided things defiling good Irish whiskey with Midori, Chartreuse, crème de menthe and the like. For my money, the ideal thing to drink on March 17 is a pint of Guinness and shot of Jameson (or Bushmills, I guess). So here, I've reinvented that classic combo as a dessert: an airy, easy-to-make whiskey ice cream and a bittersweet chocolate Guinness sauce. And if you still feel a pull toward the abominable Irish Car Bomb, just add whipped cream flavored with a shot or two of Baileys and there you are, boyo.

whiskey ice cream
:
1 1/3 cups heavy cream

1/3 cup whiskey

1/3 cup honey

4 egg yolks

Warm the honey in a small pan over low heat. While it's on the stove, whip the cream in a bowl until it's thick enough to form a soft peak when you lift out the whisk (or beaters, if you're using a mixer), gradually adding the whiskey as you whip. In another, larger bowl, beat the egg yolks. Add a little of the warm honey to the yolks and beat again; repeat bit by bit until all the honey is incorporated and the mixture is pale-yellow and thick. (If you do it all at once, the hot liquid will scramble the eggs.) Gently fold the whipped cream and whiskey mixture into the bowl containing the yolks and honey, and process in an ice cream maker, following the manufacturer's instructions. (Or cool in the fridge overnight, then freeze for 12 hours and stir before serving; it will be more icy than creamy, but still tasty.)
chocolate Guinness sauce
:
5 ounces of bittersweet chocolate

1 tablespoon honey

1 tablespoon brown sugar

1/3 cup heavy cream

2/3 cup Guinness stout

Break the chocolate into small pieces, then put everything in a pan and cook over medium-low heat until combined, stirring continuously. After it's melted and mixed, simmer and stir for another five minutes to thicken the sauce (or up to 20, depending on the consistency you prefer). Cool in the refrigerator for at least two hours, then pour over whiskey ice cream.