photo by Faiyaz Kara
A table full of duck confit, foie mousse, and kumquat sandwiches prepared by chef Mariano Vegel of Primo
Heart of Florida United Way hosts its
23rd annual Chef's Gala
May 16 at Epcot World Showplace. It's United Way's largest fundraiser, with proceeds going to support education, income, health and basic needs, helping more than 400,000 people in the tri-county area.
We got a sneak peek Wednesday into some of the fare that will be offered at the Chef's Gala. The dishes were prepared by chefs Mariano Vegel (
Primo at JW Marriott Orlando Grande Lakes
), Kevin Fonzo (
K Restaurant Wine Bar
), Anthony Krueger (
blu on the avenue
), Jared Gross (
Urban Tide at Hyatt Regency Orlando
) and Amanda Lauder (
Disney's Animal Kingdom Lodge
).
photo by Faiyaz Kara
Chef Kevin Fonzo hard at work
photo by Faiyaz Kara
Root vegetable gnocchi, Palmetto Creek Farms pork ragu, house made ricotta cheese, fried garden basil (Fonzo)
photo by Faiyaz Kara
Duck confit, foie mousse, and kumquat sandwich (Vegel)
photo by Faiyaz Kara
Illy espresso crusted beef tenderloin, roasted bone marrow mousseline, Hog Island oyster, crispy potato (Krueger)
photo by Faiyaz Kara
Florida rock shrimp escabeche, creamed parsnips, chicharrones, burnt onion jam (Jared Gross)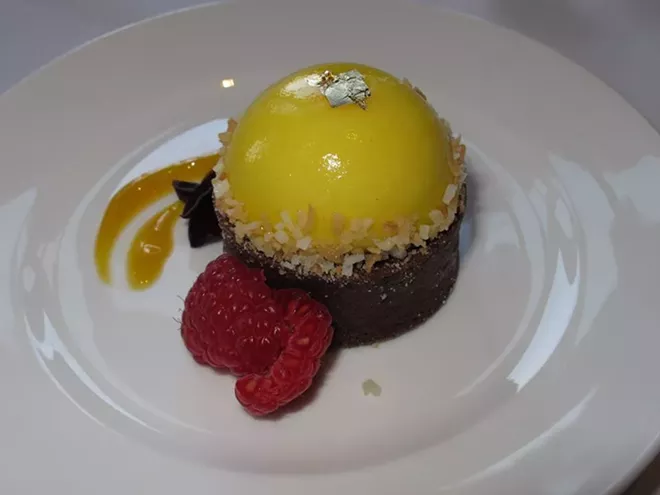 photo by Faiyaz Kara
Ghanaian chocolate and passion fruit milk tart (Lauder)
photo by Faiyaz Kara
The chefs (from L-R): Jared Gross, Amanda Lauder, Kevin Fonzo, Anthony Krueger, and Mariano Vegel
photo by Faiyaz Kara
United Way reps (including former Surgeon-General Dr. Antonia Novello), sponsors, and chefs