James Dechert
"Film Speak" - Maximino and Broken Machine Films at the In-Between Series
A couple months ago, I told you about the new
In-Between Series,
the monthly music showcase at downtown's
Gallery at Avalon Island
that debuted at the top of this year. Only three shows in and it's probably the
most interesting music series
going in the city right now. The latest,
"Film Speak"
(Mar. 16), furthered the art-forward event with a
multimedia performance
by local sonic adventurer
Maximino
and eminent analog visualist
Joshua Rogers.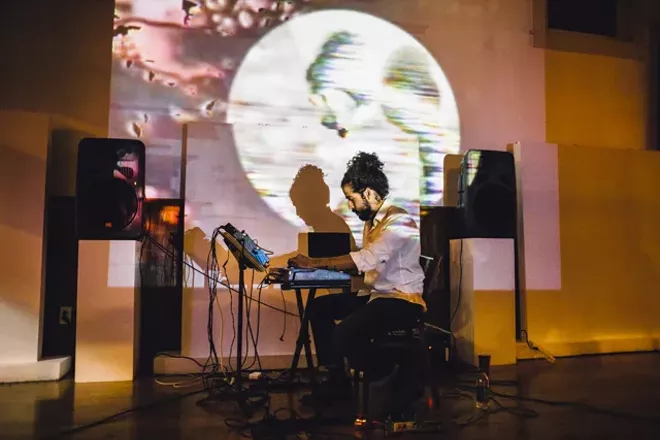 James Dechert
"Film Speak" - Maximino and Broken Machine Films at the In-Between Series
As one of the most active, visible and written about musicians in Orlando's indie scene, Maximino's
Gerald Perez
needs little introduction. Although known in more underground corridors, Rogers often operates in the background, but he's a figure that deserves spotlight as well. As the eye and brain behind
Broken Machine Films,
he's one of the area's most notable music-minded film artists. Besides that, he also runs experimental label
Illuminated Paths,
which specializes in music that's fiercely niche (it's caught
national attention
as a leading
vaporwave
label) and assembled in
handmade packaging
that's lovingly and curiously personal. Lately, IP has also been embarking on the very worthy crusade of unearthing lost recordings of local subterranean names like
Ray Brazen, Dr. Moonstien, D003Y D3C1MAL, Discovery of Magnetic North
and
Bleubird.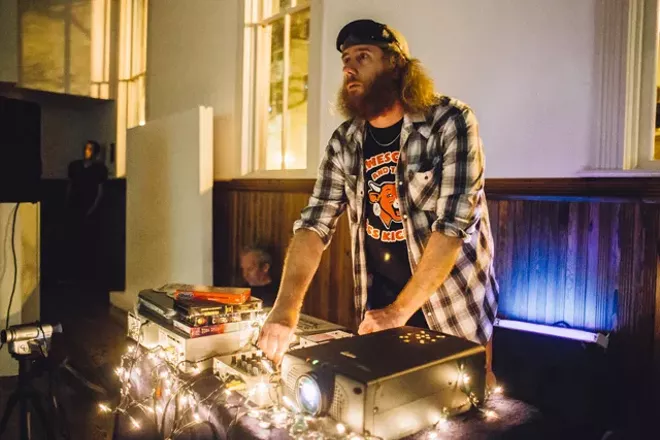 James Dechert
"Film Speak" - Joshua Rogers of Broken Machine Films at the In-Between Series
For the two-segment "Film Speak" experience, Rogers live-mixed projected visuals while Maximino live-scored them with keyboard and a pedal array. The first piece was a looping, abstract drone cloud while the second was a svelte, sense-triggering electro drive. Together, it was a surrounding performance of
intersection and impressionism.
James Dechert
"Film Speak" - Maximino at the In-Between Series
There's still plenty of room at the In-Between Series events, but the crowds are growing for the ever-evolving and ever-dynamic shows. Even at cursory glance, the modern and unconventional performances tend to slow down most passersby outside in instant
spells of curiosity.
But the biggest reason to check out the In-Between Series is that this curiosity
only gets deeper
once you walk in and see and hear the things happening inside up close. It's a cultured event for lovers of the art of music and a refreshing harbor of live performance beyond the typical bar or even auditorium scene.
As of the night of this performance, the schedule has been extended: August's feature will be psych-pop weirdos
Moon Jelly
and September may see another version of the talked about "Body and Parts" performance by
Attached Hands' Henry
from last month. Stay looped at the
In-Between Series Facebook page
.
////////////////////////////////////////////////////////////////////////////////////////////
This Little Underground
is Orlando Weekly's music column providing perspective, live reviews and news on the city's music scene.

Follow Bao on Twitter (@baolehuu)
Email Bao: baolehuu@orlandoweekly.com