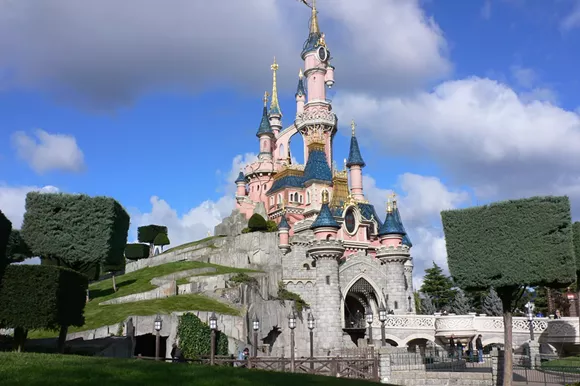 photo of Sleeping Beauty Castle via Parc Disneyland
There are only six metropolitan areas on this grand and miraculous Spaceship Earth that are worth living in, besides Orlando and Anaheim. Those cities are Tokyo, Paris, Los Angeles, Orlando, Hong Kong and Shanghai. These megalopolises (megalopoles?) have one thing in common: a Disney theme park within an hour's transport time (Shanghai in 2016). So here's my international Disney bucket list – at least one ride from every Disney park not in North America that I need to experience in this life.
Keep in mind that I have only been to the six parks at Walt Disney World and Disneyland Resort. This is a bucket list. It is strictly conjecture. I have only seen YouTube videos of these rides. When I speak of the parks on foreign soil, I know not what I speak of. Save your comments about how these rides are NBD for #thedress. (Which, for the record, is clearly invisible.)
Here we go!
1: Sindbad's Storybook Voyage – Tokyo DisneySea
Let's kick this off with a boat ride. Not only a boat ride, but a 10-minute boat ride that features a cute little tiger cub mascot named Chandu. Yeah, this is all about Sindbad's adventures … but I'm pretty sure I'll be paying attention to Chandu when I eventually ride this dreamboat. Soundtrack by Alan Menken.
photo via Hong Kong Disneyland
2: Mystic Manor – Hong Kong Disneyland
What can I say? I'm a sucker for tiny animal sidekicks. This time it's a monkey named Albert. I'm also a sucker for Disney's penchant for fake mythologies. The Society of Explorers and Adventurers is one of these fake mythologies. This one looks to be for Haunted Mansion fans who are dying to show their inner Adventureland. Soundtrack by Danny Elfman!! Oingo Boingo Danny Elfman!!! Screw Alan Menken.
3: Cinderella Castle Mystery Tour – Tokyo Disneyland
This is the only attraction on my bucket list that no longer exists. I'll let
Parkeology
tell you more about it:
As shocking as it may seem even the Japanese are fallible and the proof can be found in the now defunct Castle Mystery Tour that operated at Tokyo Disneyland for 20 years from 1986 to 2006. Two missteps are at play here; the first was building a major new attraction (it was a "D" ticket… that's the second best for you youngsters) that hinged on the success of the Black Cauldron (that's a crappy, failed Disney animated movie that nearly destroyed the animation division. Please try to brush up on your Disney history so I can stop with the parentheses.)

(more)
If you love me, you will order a copy of
The Black Cauldron
from Japan so that the folks at Oriental Land Company (operators of Tokyo Disney Resort) think that movie is making a comeback and reinstate this tour.
4: Splash Mountain – Tokyo Disneyland
Just watch this video, courtesy of legotrainsrock:
5: Studio Tram Tour: Behind the Magic – Walt Disney Studios Park
I regretfully had to leave the recently closed Disney Hollywood Studios tram tour off of my upcoming "
Top 5 Extinct Walt Disney World Attractions I Miss
" blog. The Parisian counterpart gets the nod here. I have heard terrible things about Walt Disney Studios Park, but I promised you at the beginning of this journey that I would hit ALL of the international parks.
6: Pirates of the Caribbean – Parc Disneyland
No Captain Jack Sparrow (for now). That's all I need to know.
7: Sleeping Beauty Castle – Parc Disneyland
I mean, have you seen pictures of this thing? Oh yeah, I think one might be right in front of you. Not only is this the most elaborate castle at any of the Disney "castle" parks (at least until Shanghai Disneyland opens), but there's a freaking audio-animatronic dragon up in this piece!
photo via Tokyo DisneySea
8: Journey to the Center of the Earth – Tokyo DisneySea
This could have easily turned into a 25-page "Top 73 Things I Want to Do at Tokyo DisneySea" article.
NO. 37: BUY MORE STUFFED ANIMALS THAN ANY ADULT SHOULD BE ALLOWED TO BUY FOR THEMSELVES!!!!
(For the record, I have not purchased any of my Duffy dolls. I swear they are all gifts. But I don't think any human being with a heart could resist buying a Gelatoni.)
I will end with this ride-through video of the above mentioned No. 8 entry in our countdown. According to that movie
Enter the Void
, hallucinogens are widely available in Tokyo "street society." Be careful, don't reincarnate yourself back into yourself again. Don't pull a Tibetan Groundhog Day.
Video from BoogaFrito (dat name doe):
Honorable Mention: The Smog – Shanghai Disneyland (opening 2016)
Jussssssst kidddddinnng! If anyone wants to foot the bill to fly me to Shanghai for the opening of the Shanghai Disney Resort (I'm totally talking to the people that print this trash), I will gladly repay you with an 850-word trip report.
— Love, Tomithy