The Dwarves
The Dwarves' Blag Dahlia and HeWhoCannotBeNamed
Of the legendary players at the recent old-school punk show (Mar. 21, Backbooth),
Richie Ramone's
set was a bit of big-name mediocrity and the
Queers,
though lock-tight, were unfortunately still the Queers. More exciting than either of their individual sets was when the Queers brought Richie back up to play "Sheena is a Punk Rocker" for their finale.
Lindsay Tompkins
The Queers at Backbooth
But I was there for the
Dwarves.
Their actual music hasn't been especially prime since the '90s and they haven't been truly dangerous since before that, but what they embody – the artistic provocation, the system-jolting mischief and, not even gonna lie, the
wanton nudity
– is something that doesn't just endear them to me personally but guarantees their seat in the
rock & roll pantheon.


Lindsay Tompkins
The Dwarves at Backbooth
Although the Dwarves have settled into more of a
pop-punk sound
that's somewhat antithetical to their
blood-guts-pussy
doctrine, their live kick remains sonically raw and fitting. But about their
famous shock factor:
The only danger I've personally seen from bandleader Blag Dahlia is him sorta
hitting on my girlfriend
at the old Will's. Guitarist
HeWhoCannotBeNamed
– who tends to perform in a luchador mask and little else – has been the only band member certifying any of it in the times I've seen the Dwarves in this century. But either he was absent or he's gained a little weight and lost a lot of pizzazz. Absent that, the most shocking thing about this show was the
absence of shock
or even spectacle, which isn't exactly the right direction to go in terms of taking people by surprise. Look, a decent straight-up rock show is never anything to turn your nose up at. But for a band whose legacy and currency is as
built on outrageousness
as the Dwarves, it's just not enough.
Mike Rosati
What's SUPPOSED to happen at a Dwarves show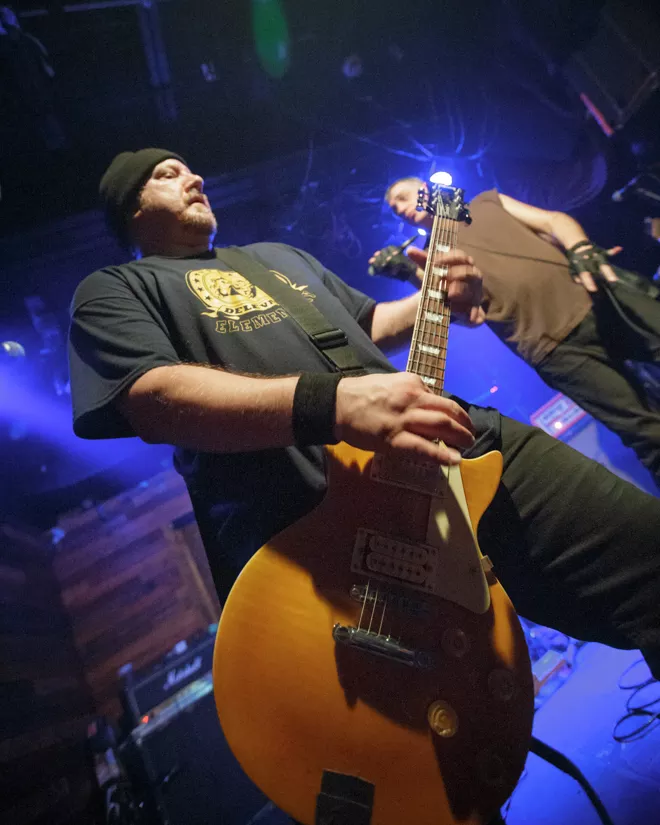 Lindsay Tompkins
What ACTUALLY happened at this Dwarves show (Backbooth)
////////////////////////////////////////////////////////////////////////////////////////////
This Little Underground
is Orlando Weekly's music column providing perspective, live reviews and news on the city's music scene.

Follow Bao on Twitter (@baolehuu)
Email Bao: baolehuu@orlandoweekly.com